I can testify personally that this feature works and is helpful. Not only does it give you warnings but you're also offered exercises that will help your balance and steadiness. Apple is truly working hard at being a health essential. https://appleinsider.com/articles/22/04/03/how-to-enable-walking-steadiness-notifications-in-ios-15?
How to enable Walking Steadiness notifications in iOS 15
Malcolm Owen | Apr 03, 2022
Older and unfit people may have a higher risk of falling over, which could cause an injury. Here's how to check how sure you are on your feet with the iPhone's Walking Steadiness feature.
As time passes, people grow older, and their bodies become more susceptible to issues. With joints wearing and muscles tiring, people can grow to become less steady on their feet over time.
Age is not the only factor affecting a user's steadiness, as a lack of fitness or the onset of illness or ailments can have a similar effect.
With instability comes the increased risk of falling over, an incident that could result in injuries and long-term discomfort. For those with severe conditions, a fall could make a person's health significantly worse.
People face the problem that, unless they are consciously examining how they walk, they're unlikely to notice being unsteady in their daily lives. They may not see it until they fall, and by then, it's too late.
Changes in a person's steadiness can also be used as an indicator of other health issues, such as arthritis or Parkinson's Disease. In some cases, noticing unsteadiness could lead a person to seek medical attention early, which could be helpful for treatable ailments.
According to WHO data, an estimated 684 thousand people die from falls globally, with adults aged 60 years and over suffering the greater number of fatal falls. Approximately 32.3 million falls occur each year that are severe enough to require medical attention, which can cost a person in the form of paying for medical care and potentially the loss of earnings from an inability to work.
Health's Walking Steadiness
Included as part of iOS 15, the Walking Steadiness feature of Apple's Health app can use the sensors on an iPhone to determine how well you walk. Using algorithms, it can assess your balance, stability, and coordination as you walk around.
These metrics include your walking speed, step length, double support time, and walking asymmetry.
Once enabled, Walking Steadiness will gather new data and analyze existing data collected by other Health functions.
Though not enabled by default, you can turn on Walking Steadiness notifications in iOS. Once enabled, you will be given periodic notifications whenever the iPhone detects a dip in steadiness.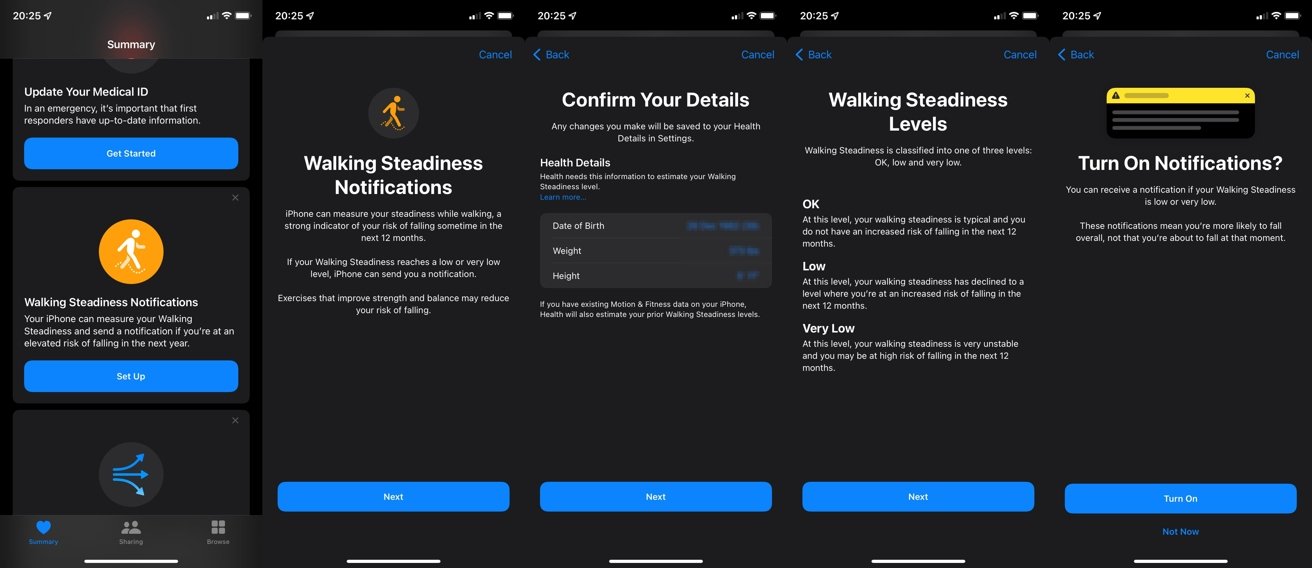 The path to enable Walking Steadiness notifications in the Health app in iOS 15.
The feature classifies results into three levels: OK, Low, and Very Low.
OK means your walking steadiness is typical, and you don't have an increased risk of falling in the next 12 months.
A Low designation means you're at an increased risk of falling in the next year. A Very Low level of walking steadiness infers the user is not stable when on the move and therefore has a high risk of a fall.
How to enable Walking Steadiness Notifications in iOS 15
Open the Health app.
On the Summary screen, scroll down to Walking Steadiness Notifications and tap Set Up.
Tap Next.
Confirm your date of birth, height, and weight, which will be present if you ever entered the data before. Correct or enter data if required, then tap Next.
Tap Next.
To enable the notifications, tap Turn On.
On the Setup Complete screen, you can elect to add Walking Steadiness to the Favorites list for easy access. Tap Done.
Understanding the data
You can access Walking Steadiness in the future by tapping Browse within the Health App, then selecting Mobility followed by Walking Steadiness.
The screen will present graphs over time, including month, six-month, and year-long views. You can scroll through the times by swiping sideways.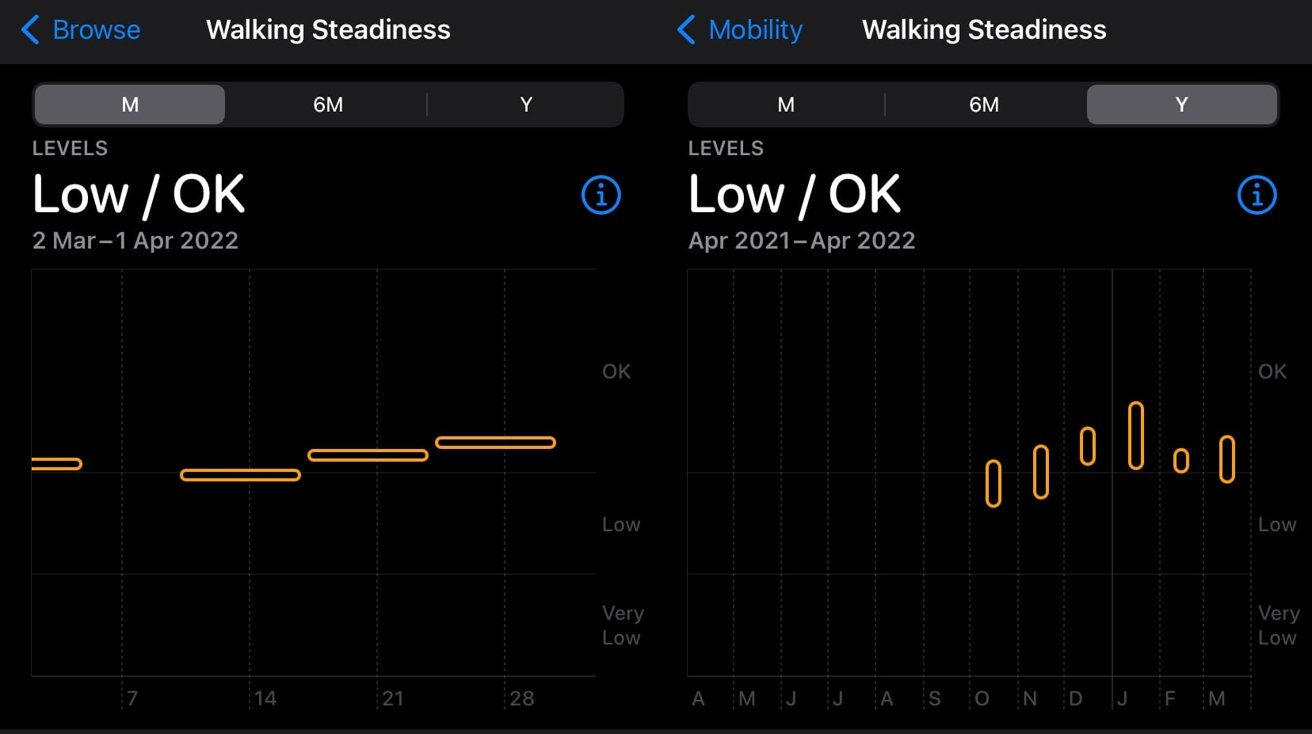 An example of the data generated in Walking Steadiness.
Orange dots and blocks appear on the graph, appearing in either the OK, Low, or Very Low sections. The higher the block is on the chart, the better the user's steadiness.
Further down the page, Apple offers articles to read about understanding walking steadiness and exercises to improve your stability. Even further down, you can see apps that report extra data to the feature, an option to add it to your favorites list, and the ability to see related data and data sources.
---