I've mentioned the OverDrive app as my choice for listening to books not available from Audible.com. The app is closely integrated with the Libby app which is my favorite way of searching for, placing holds on, and taking out library books. This rather neat program is aimed at those who are 13 and over, but many of these choices (listed at the end of the article) are readable by any adult as well. Enjoy.
NOTE: Each of these pairs of audiobooks is available for One Week Only. You can't dive in at the end of the summer and collect them all. You must check in once a week at https://www.audiobooksync.com/ to take advantage of this offer.
https://bookriot.com/2019/04/25/free-audiobooks/
SCORE FREE AUDIOBOOKS ALL SUMMER LONG
Want to score free audiobooks all summer long? You can with the launch of this year's Audiobook Sync, which kicked off today.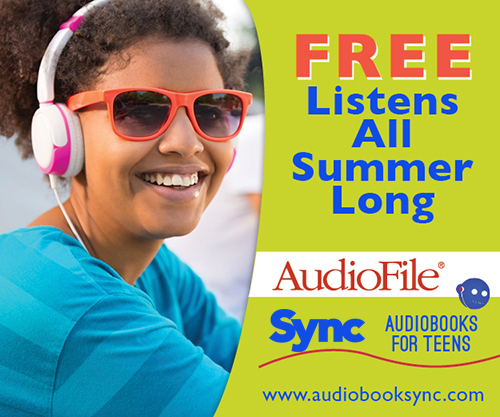 Sponsored by AudioFile and distributed through the free OverDrive app, Sync is a program geared toward teen listeners but that anyone who enjoys a great audiobook will want to take advantage of. Each week, beginning April 25, Sync offers up 2 free titles for download that include recent and backlist young adult titles, as well as classic titles. You're welcome to download both titles or pick and choose which you'd like.
But to take advantage of the free listens, you have to download the OverDrive app and download the titles for the week they're offered. Even though they're only available for seven days to download, once you download the books, they are yours to keep forever. So never fear if you can't listen as fast as they're available.
Snag the first titles today here and remember to check back each week to pick out your free audiobooks all summer long.
Curious what the titles for this year's program are? Here's the full list of free audiobooks from AudioSync for 2019:
Week 1: April 25 – May 2
SWING by Kwame Alexander, with Mary Rand Hess, narrated by Kwame Alexander (Blink)
BLINK & CAUTION by Tim Wynne-Jones, narrated by MacLeod Andrews (Candlewick on Brilliance Audio)
Week 2: May 2 – May 9
OTHELLO by William Shakespeare, narrated by Ewan McGregor, Chiwetel Ejiofor, Kelly Reilly, Tom Hiddleston, and a full cast (Naxos AudioBooks)
YOU by Charles Benoit, narrated by David Baker (Full Cast Audio)
Week 3: May 9 – May 16
THE EPIC CRUSH OF GENIE LO by F.C. Yee, narrated by Nancy Wu (Recorded Books)
SHADOW OF THE FOX by Julie Kagawa, narrated by Joy Osmanski, Brian Nishii, Emily Woo Zeller (HarperAudio)
Week 4: May 16 – May 23
SPILL by Leigh Fondakowski, performed by Elisa Bocanegra, Nicholas Hormann, James Morrison, Darren Richardson, and a full cast (L.A. Theatre Works)
MEET THE SKY by McCall Hoyle, narrated by Morgan Fairbanks (Blink)
Week 5: May 23 – May 30
A NIGHT DIVIDED by Jennifer A. Nielsen, narrated by Kate Simses (Scholastic Audiobooks)
TEAR DOWN THIS WALL: A CITY, A PRESIDENT, AND THE SPEECH THAT ENDED THE COLD WAR by Romesh Ratnesar, narrated by Wes Bleed (Oasis Audio)
Week 6: May 30 – June 6
THE FIRST TIME SHE DROWNED by Kerry Kletter, narrated by Jorjeana Marie (Penguin Random House Audio/Listening Library)
WILD BIRD by Wendelin Van Draanen, narrated by Alex McKenna (Penguin Random House Audio/Listening Library)
Week 7: June 6 – June 13
A GIRL LIKE THAT by Tanaz Bhathena, narrated by Firdous Bamji, Neil Shah, Soneela Nankani, Lameece Issaq (Recorded Books)
AN ENEMY OF THE PEOPLE by Henrik Ibsen, Adapted by Rebecca Lenkiewicz, performed by Richard Kind, Rosalind Ayres, Gregory Harrison, Josh Stamberg, and a full cast (L.A. Theatre Works)
Week 8: June 13 – June 20
THE GOLDEN DAY by Ursula Dubosarsky, narrated by Kate Rudd (Candlewick on Brilliance Audio)
GULP by Mary Roach, narrated by Emily Woo Zeller (Tantor Audio)
Week 9: June 20 – June 27
ASTRAY by Emma Donoghue, narrated by Khristine Hvam, James Langton, Robert Petkoff, Suzanne Toren, Dion Graham (Hachette Audio)
OLIVIA TWIST by Lorie Langdon, narrated by Pearl Hewitt (Black Hills Audiobooks)
Week 10: June 27 – July 4
YAQUI DELGADO WANTS TO KICK YOUR ASS by Meg Medina, narrated by Roxanne Hernandez (Candlewick on Brilliance Audio)
HERETICS ANONYMOUS by Katie Henry, narrated by Michael Crouch (HarperAudio)
Week 11: July 4 – July 11
THE NAME OF THE STAR by Maureen Johnson, narrated by Nicola Barber (Brilliance Audio)
THE CANTERVILLE GHOST by Oscar Wilde, narrated by Rupert Degas (Naxos AudioBooks)
Week 12: July 11 – July 18
BECOMING KAREEM by Kareem Abdul-Jabbar, narrated by Kareem Abdul-Jabbar (Hachette Audio)
VINCENT AND THEO by Deborah Heiligman, narrated by Philip Fox (Dreamscape Media)
Week 13: July 18 – July 25
THE GO-BETWEEN by Veronica Chambers, narrated by Karla Souza (Penguin Random House Audio/Listening Library)
KIDS OF APPETITE by David Arnold, narrated by Phoebe Strole, Michael Crouch and Ryan Vincent Anderson (Penguin Random House Audio/Listening Library)
Week 14: July 25 – August 1
AKATA WITCH by Nnedi Okorafor, narrated by Yetide Badaki (Tantor Audio)
ALL THE CROOKED SAINTS by Maggie Stiefvater, narrated by Thom Rivera (Scholastic Audiobooks)
With Generation Z and Millennials driving audiobook listenership, these titles are bound to be popular picks for the summer of 2019.