https://apple.news/A8WBDR24jTm-iWp_7fZwing
By Janisse Jean, published on Fast Company on 04-20-23
The center's upcoming Summer for the City festival will include hundreds of free events, from dance parties to an opera based on an Octavia E. Butler sci-fi novel.
[Image: Evan Alexander/courtesy Lincoln Center]
As the first-ever chief artistic officer at New York City's Lincoln Center, Shanta Thake is on a mission to reinvigorate the legendary performing arts center by rethinking its programming.
Since Thake's appointment in 2021, Lincoln Center has implemented a choose-what-you-pay ticketing system and offered free programming. The center has hosted an orchestral tribute to Brooklyn icon Notorious B.I.G. and collaborated with Afropunk on a two-day festival. The new David Geffen Hall opened this past fall with a piece from trumpeter and composer Etienne Charles telling the history of San Juan Hill, the neighborhood that was razed to create Lincoln Center. And last summer, Thake turned the plaza into a thumping dance floor—with a 1,300-pound disco ball. https://www.youtube.com/embed/ItXoWQlajcc?feature=oembed
In a conversation during Fast Company's Most Innovative Companies Summit, Thake said that Lincoln Center's role within New York City is changing. "We have to evolve with the needs of the city," Thake said. "We have doubled down on our commitment not just to be the best as an arts institution, but to be a cultural and civic space. We want to be part of people's entertainment life. But we also want to be part of their day-to-day life."
That has meant hosting blood drives and serving as a polling site on election day. Last summer, Thake orchestrated an outdoor wedding celebration for 500 couples whose wedding plans were interrupted by COVID-19. She's further integrated Lincoln Center into the fabric of the city with programming that speaks to communities that span different neighborhoods and experiences. Last year's Summer for the City festival, for example, featured dance parties playing everything from salsa and merengue to South African amapiano. They helped draw more than 300,000 people to Lincoln Center, most of whom had never before purchased a ticket to a performance there.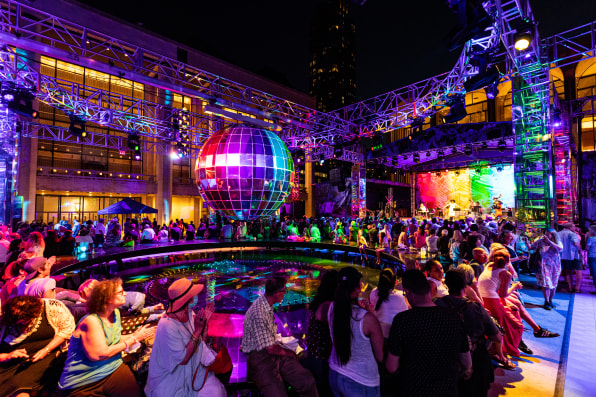 Thake has brought the same ambitions to this year's Summer for the City festival, which begins on June 14 and features hundreds of free events. Under set designer Clint Ramos, the campus will be transformed into a breezy, beach-like setting, complete with pink flamingos, neon lights, a greenhouse structure, and (yes) a giant, disco-balled dance floor. The eight weeks of programming include a celebration of the 50th anniversary of hip-hop with performances from Rakim, Big Daddy Kane, and others. There will also be a Korean Arts Week, with indie rock, folk music, and films, and a nod to classical music with performances by the Mostly Mozart Festival Orchestra.
In July, David Geffen Hall will also host the New York City premiere of an Octavia E. Butler's Parable of the Sower, an opera by Toshi Reagon and Bernice Jonson Reagon based on the Afrofuturist author's classic sci-fi novel. Six years in the making, the opera hits the stage just in time for the novel's 30th anniversary. Set in 2024, Parable of the Sower explores a world wrecked by climate change, anxieties about the future, and social inequality that feels all too familiar.
Nevertheless, the majority of Lincoln Center's programming is uplifting and inclusive. "It's really very important to us to be a civic cultural hub for New York City—indoors, outdoors, year-round," Thake said. "We are a place where New Yorkers feel at home."