http://www.curbed.com/2023/05/trash-containerization-parking-dsny-report.html?
TRASH MAY 3, 2023
The City Can Fix Its Rat Problem If It Loses 150,000 Parking Spots
By Clio Chang, a Curbed writer who covers everything New York City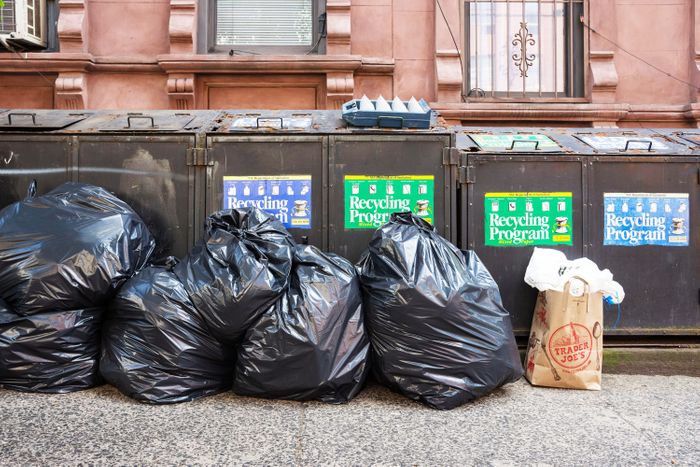 Photo: Artem Zavarzin/Alamy Stock Photo
It turns out one neat trick can tackle the twin, unchecked plagues of New York City: cars and rats. A new Department of Sanitation report out on Wednesday finds that the city could move 89 percent of trash on residential streets into containers by repurposing 150,000 parking spots — up to 10 percent of available spaces — from the curb. If that sounds like a lot to lose, consider the fact that, per the report, the city dedicates a staggering 80 percent of its available curb space to street parking — "a combined area equivalent to 12 Central Parks."
Half of the city would use individual bins — areas with lower density buildings in Staten Island, eastern Queens, southern Brooklyn, and northern Bronx — which wouldn't require repurposing curb space. Meanwhile, denser areas of the city — 39 percent of the streets — would need larger shared containers on the curb. As the report notes in one case study, setting out individual bins in front of a mid-size building would make the sidewalk "impassable" for pedestrians — picture trying to walk by a sidewalk clogged with individual cans. The same volume of trash in shared containers would take up only two parking spaces on the curb. As Sanitation commissioner Jessica Tisch told the New York Times, the report makes clear that containerization "is viable across the vast majority of the five boroughs." It's just a matter of political will.
The city has launched a few containerization pilots in Hell's Kitchen and Times Square, but the report found that these Clean Curbs pilots were not scalable because they required manual pickup. Shifting to containerization would take more than repurposing parking spaces — DSNY would need to overhaul its fleet with "automated side loading" trucks to lift the bins, pickup frequency would have to be increased, and snow would have to be cleared ahead of collection. (The report doesn't include a cost estimate on all of this.) And 11 percent of the city doesn't have enough street space to contain the amount of trash produced, including highly dense neighborhoods like the Financial District and Midtown West.
DSNY is planning to launch a new pilot this fall in West Harlem of large trash containers covering ten city blocks, this time using retrofitted collection trucks for mechanized pickup. Trading 150,000 parking spots for a city where you no longer have to run through trash alleys every night avoiding rats hiding in every nook? Seems like a win-win!