https://deadspin.com/womens-world-cup-injuries-uswnt-england-netherlands-bra-1850374615
The Women's World Cup is already a battle of attrition
All the tournament's best teams are plagued by injury
By Sam Fels, published April 25, 2023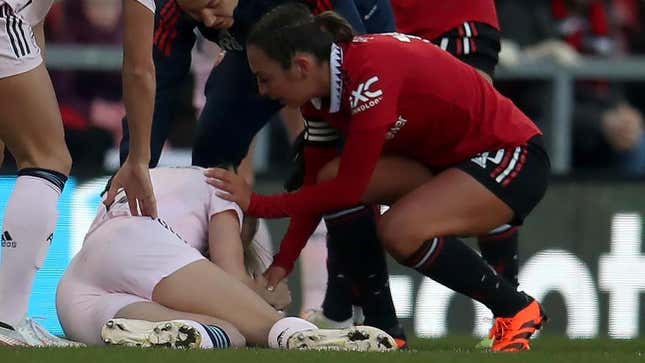 The World Cup is always a measure of health and a team's ability to deal with it. It comes at the end of a long season — unless you've fisted it into a desert, totalitarian country that makes you have it in the middle of the season — and players have logged the most possible miles before they play in the biggest tournament there is. It's impossible to get a full squad through unscathed and fresh to the World Cup, and then through it.
But the World Cup slated for July in Australia and New Zealand is shaping up more and more like the Battle of Atlanta scene of Gone With The Wind. And every favorite is dealing with at least one, and probably multiple, absences from their likely squad. It's mostly through injury, and some through politics.
England are at worst co-favorites, though most betting sites have them as second-favorites behind the US. But their chances took a major hit last week when their captain and defensive anchor, Leah Williamson, suffered a torn ACL. Beth Mead, one of the best players of last summer's European Championships, tore her ACL in November and is a longshot to make the tournament.
The Dutch will be without star striker Vivianne Miedema. You already know that Mallory Swanson is out of the tournament after her patella injury. Catarina Macario is racing against time to try and get fit for Australia and New Zealand with her own ACL injury. Canada will be missing Janine Beckie with… all together now… a torn ACL. They have various other concerns that will put a good chunk of the squad's participation in question.
Spain are still awaiting Alexia Putellas' return from the ACL injury she suffered right before the Euros. Of course, we don't know if she would play for Spain in the tournament, or who else will, because most of the first team has been on strike from the national team over the Spanish FA's choice of manager and the treatment of the team. France have had similar problems, which they tried to solve with the hiring of Herve Renard to replace the much-reviled Corinne Diacre. Australia have a litany of injuries. Brazil has only seen Marta recently return from her injury absence. Germany's Giulia Gwinn caught her own version of ACL-itis. No team would be considered to be rolling into the tournament at full strength, and we're still three months out with a European season to finish and an NWSL season to continue. This list will almost certainly grow.
It certainly highlights the epidemic of ACL injuries that have plagued, if not infested, women's soccer. There are plenty of studies out there, mostly centering on the difference in women's and men's bodies that puts more pressure on women's knees, especially when landing. But how teams and federations, at most every level, deal with those differences is still behind where it should be. Cleats designed for men and simply put in women's sizes are a possible problem as they don't adjust for the differences in women's feet, build, and strength, causing more players to get their cleats, and legs caught in the turf which can cause injury. Only recently have teams started to take menstrual cycles into consideration and how they make joints more vulnerable at times. This is just a sampling, and of course, there are still major differences in staffing, funding, and treatment of the women's game that don't help this.
And women's football has a similar problem as the men's side, in that the powers that be are finding more ways to pile in more games. Just for the USWNT, there's been an expansion of the CONCACAF Gold Cup to accommodate more South American teams being involved to mirror the dual Copa America that the USMNT will be participating in 2024. The women's game sends the full squads to the Olympics, which means some European teams are competing in major tournaments pretty much every year. There were the Euros last summer, the World Cup this one, and then the Paris Olympics the one after that, and then the next Euros in the summer after that. That's combined with these players' normal loads of work with their club teams, which FIFA saw fit to jam in a Club World Cup too. Where's the break?
It certainly leads one to ask if the World Cup is the best it can be, and whether FIFA would ever pull back on anything that may fill the coffers to make sure players stay healthy and can participate in the game's showpiece. We want the World Cup to be a contest of the best teams, not the best of what's left.
For the actual tournament, certainly, squad depth is a part of sussing out the contenders from the pretenders. Which is where the US has a real advantage. Yes, no one is Mallory Swanson right now, but being able to turn to Sophia Smith or Trinity Rodman, or Lynn Wiliams is a big comfort. England can plug in Alex Greenwood for Williamson's spot, but with Millie Bright's attendance Down Under in question too they really can't afford any more injuries in their defensive corps. Other teams aren't quite so lucky. There is no Putellas or Miedema stand-in.
FIFA nor any team can eliminate injuries entirely. But it's certainly worth asking at what point is a World Cup dimmed by what's being asked of players and what is there to support them.
Follow Sam on Twitter @Felsgate for more soccer inanity.