I personally find the restrictions imposed and proposed by Governor Santis' despicable. Free speech does not consist of telling teachers that they may not mention historical topics or those facts that children need as they develop from children into adults. These proposals (some of which have already been turned into law by his pet legislature) are censorship — plain and simple. These limits should be opposed with vigor by all citizens who see historical parallels in the initial actions of past dictators. I realize that's strong language but I think DeSantis actions deserve a response appropriate to their danger.
https://www.theguardian.com/us-news/2023/apr/13/ron-desantis-transgender-education-laws-florida-woke-act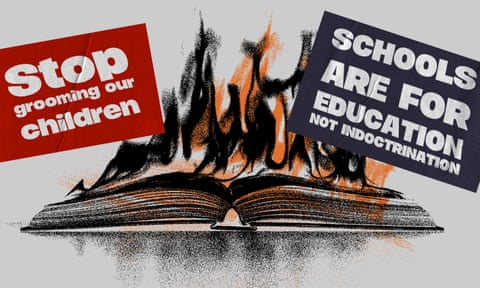 Ron DeSantis is highlighting his crusade to 'reform' public education. Illustration: Mark Harris/The Guardian
Trans people, students and teachers are besieged by DeSantis's crusade. But he's not done yet
Florida sees new deluge of legislation targeting trans rights and controlling public education as governor steps up courtship of Trump voters
by Joseph Contreras in FloridaThu 13 Apr 2023 06.00 EDT
No public school teacher or college professor in Florida has been more outspoken in his criticism of Governor Ron DeSantis than Don Falls. In the spring of 2022, the 62-year-old social studies high school teacher became the lead plaintiff in a lawsuit against the governor to block enforcement of the recently approved Stop Woke (Wrongs Against Our Kids and Employees) Act.
The DeSantis-backed legislation banned the supposed teaching of critical race theory – a scholarly examination of how social conceptions of race influence laws, political movements and history – in the Sunshine state's public schools and universities. When Falls heard that a Jacksonville law firm was drafting litigation to stop the new law from taking effect, the grandfather of five decided to raise his head above the proverbial parapet.
"One thing I've taught my students is that there are certain fundamental values associated with a democracy, and if they're going to work, you've got to stand up for them," recalled Falls, who has taught for 38 years. "I couldn't have taught that to my students and then, when the ball was in my court, pass it on to somebody else."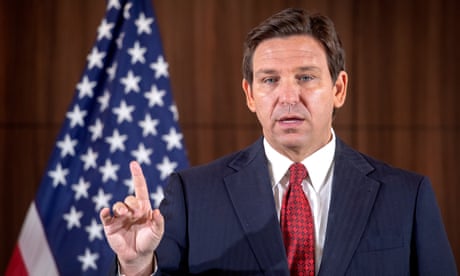 In his first year as Florida's chief executive, DeSantis raised public school teachers' salaries and paid tribute to the mostly gay, lesbian and transgender victims of one of the country's most deadly mass shootings in recent times. But as he built his national profile, attracting attention for his controversial views on masks and vaccines during the Covid-19 pandemic, he took a sharp swing to the right and stepped up his courtship of the party's Trump-loving base.
Now, with rumors he is close to launching his presidential bid, DeSantis is highlighting his crusade to "reform" public education in Florida and restrict the rights and freedoms of the state's transgender population as centerpieces of a nationwide agenda for what he calls "America's revival".
Last year, DeSantis and his Republican allies went further and rammed house bill 1467 through the state legislature, requiring all reading material used in public schools to be reviewed by a "trained media specialist" to ensure that the material be "free of pornography" and "appropriate for the age level and group". Critics say it empowers conservative groups to ban books whose contents they disagree with, even if they are age appropriate.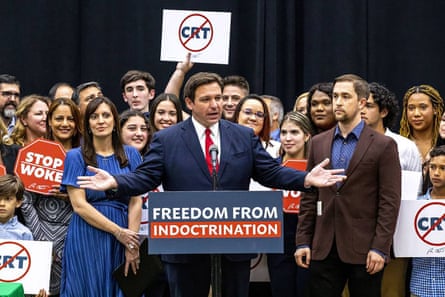 Falls continued to resist. Confronted with a choice of either removing the estimated 250 to 300 books in his classroom or submitting them to the vetting process, he and other colleagues at the school opted to conceal their covers by enveloping them in plain brown paper, thereby shielding themselves from possible criminal prosecution or civil liability.
He posted a wryly written sign inside his classroom that read: "closed by order of the governor".
Book bans, pronoun bans
On 23 February hundreds of college students walked out of their classrooms at six public universities to protest against DeSantis's decision to abolish diversity, education and inclusion (DEI) programs and policies that had been mandated in 2020 in all of Florida's dozen institutions of higher education by other political appointees, including the former governor Rick Scott.
Demonstrations were also held in early March to denounce HB 999, legislation that would eliminate college majors and minors in "critical race theory, gender studies or intersectionality", render a professor's tenure subject to review at any time, and require colleges to offer general education courses that "promote the philosophical underpinnings of Western civilization and include studies of this nation's historical documents". It would also formally outlaw spending on DEI programs, which seek to promote the participation and fair treatment of people from all walks of life.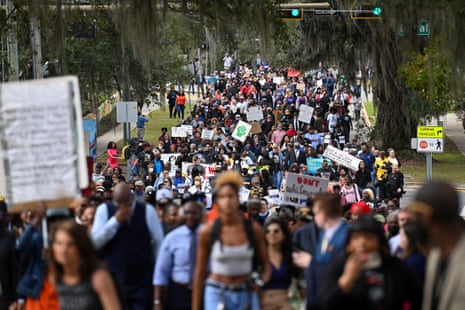 "We're seeing more and more students who, emboldened by some faculty members, shout people down and shut down viewpoints they don't agree with," the chief sponsor of the legislation, state representative Alex Andrade, told the Guardian. "People are forgetting that public universities are a component of a state government's executive branch, and when we're trying to encourage and enforce discrimination in the name of diversity and equity, we're getting it wrong."
The sweeping scope of that legislation, coupled with three other education bills that would, among other things, forbid school staff and students from using "pronouns that do not correspond with a person's sex", has left educators in Florida feeling incensed and dumbfounded.
"There aren't actually any majors in critical race theory or intersectionality," noted Andrew Gothard, an English instructor at Florida Atlantic University and president of United Faculty of Florida, the union that represents more than 25,000 faculty members in the Sunshine state's dozen public universities and 16 state and community colleges. "The goal is to eliminate all thought that diverges from the governor's political platform, and it's absolutely terrifying.
"Any time you're telling people they can only teach history in a way that praises the motherland, you're straying into Hitler Youth territory."
Multiple requests from the Guardian for an interview with Governor DeSantis went unanswered. But in a recent statement, DeSantis defended HB 999 because it seeks to push back "against the tactics of liberal elites who suppress free thought in the name of identity politics and indoctrination".
DeSantis called a press conference on 8 March to debunk what he termed "the 'book ban' hoax" in relation to the Stop Woke Act, asserting that books containing pornographic content and other kinds of violent or age-inappropriate content had been discovered in libraries and classrooms in 23 school districts statewide. These included Maia Kobabe's widely acclaimed Gender Queer: A Memoir, one of 10 books that received an Alex Award from the American Library Association in 2020 for having "special appeal for young adults ages 12 through 18".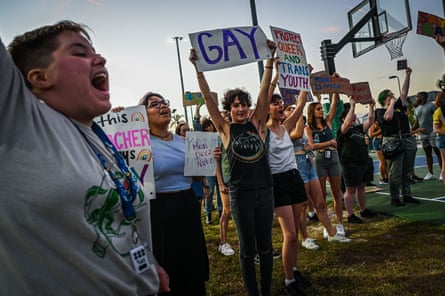 "Our mantra in Florida has been education, not indoctrination," DeSantis wrote in his recent memoir, The Courage to Be Free: Florida's Blueprint for America's Revival. He hailed Florida as one of the first states to enact a parents' bill of rights, which in his telling guarantees mothers and fathers "the right to inspect the materials being used in their kids' schools".
Yet DeSantis also omits any reference to the state's grossly underpaid public school teachers, who rank 48th nationwide in average salaries according to the National Education Association.
'Slate of hate'
Another target of the 44-year-old governor is the state's LGBTQ+ community and, in particular, the transgender population. A new bill, house bill 1421, titled "Gender Clinical Interventions", would prohibit transgender individuals from amending their own birth certificates and eliminate transition-related care such as hormone therapy and puberty blockers for minors.
The chief sponsor of the bill, state representative Randy Fine, tweeted in March that the legislation would outlaw the "butchering of children" and free Florida taxpayers from having to subsidize "the sexual mutilation of adults". In reality gender-confirming surgical procedures are seen as lifesaving, and are mostly offered to teenagers who are at least 15 years of age or older. Even among this group such operations are "exceedingly rare", according to the National Center for Transgender Equality.
Not to be outdone, state senator Clay Yarborough introduced senate bill 254 that would allow the state to take temporary custody of children who may be receiving gender-affirming care now or in the future. (Yarborough declined the Guardian's request for an interview.)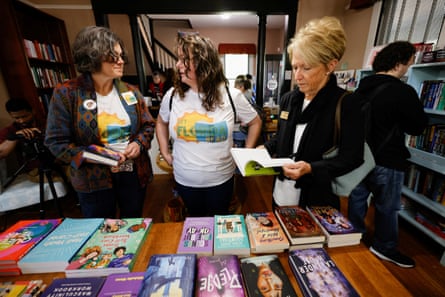 The barrage of bills focusing on transgender people is part of a broader onslaught by far-right thinktanks and consultants on democracy, abortion rights and racial progress, according to Nadine Smith, a co-founder and executive director of Equality Florida, an LGBTQ+ community rights organization.
"It's not surprising to see this slate of hate introduced," said Smith. "This rightwing shift has everything to do with usurping Trump on the right in the forthcoming Republican presidential primary elections. DeSantis is not driven by convictions or a core set of values, he is driven only by ambition and his desperation to become president."
The civil rights advocate remembers a different Ron DeSantis four years ago. Elected governor for the first time in 2018 by a razor-thin margin of about 32,000 votes, the former congressman and co-founder of the rightwing House Freedom Caucus gravitated towards the center-right during his early time in office.
DeSantis issued a proclamation on the third anniversary of the 2016 mass shooting in an Orlando gay nightclub that paid tribute to the 49 people who died but failed to mention the targeting of the LGBTQ+ community as a possible motive of the killer.
The governor came under fire for that omission and reissued the proclamation with amended wording. He even met with a survivor of the shooting and other members of the city's LGBTQ+ community as a sign of solidarity.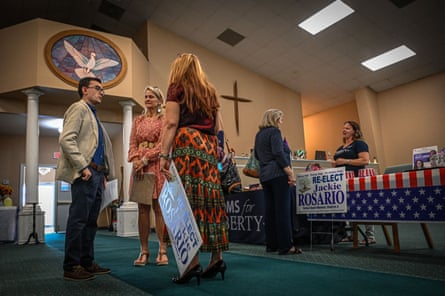 "The DeSantis we are seeing now doesn't sound like the DeSantis who ran for governor the first time," said Smith. "He went from being someone who went to the Pulse nightclub and responded to the criticism to someone who routinely calls LGBTQ+ people groomers and incites violence towards us."
The number of anti-LGBTQ+ demonstrations in Florida has soared in recent months. The Armed Conflict Location and Event Data (ACLED) project documented 17 such episodes during 2022, up sharply from the six that the organization chronicled in 2021 and the five that were recorded in 2020. Some degenerated into riots. Nationwide, Florida ranked third in these incidents, surpassed only by California and Texas.
Members of the state's transgender population say they are feeling the intensifying heat.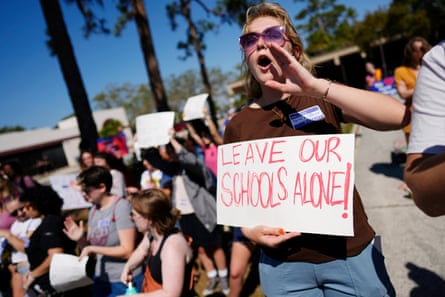 Morganti (not his real name) moved to the Gulf coast city of Bradenton from Louisiana in 2016. The 35-year-old New College of Florida student still identified as a woman at the time, and struck up a relationship with a local woman. "She and I could hold hands walking through a shopping mall, and when I first came down here it wasn't a big deal," said the third-year marine biology major.
But the bearded trans man has noticed a palpable change in the political climate during the intervening six years. No violent confrontation has occurred to date, but he has dealt with comments about his voice and body.
The hostile takeover of New College by six of DeSantis's rightwing allies on its board of trustees earlier this year has not helped matters, and Morganti says he will move abroad to obtain his master's degree once he has finished his undergraduate studies in January 2025.
"If Ron DeSantis doesn't make it to the White House, he will still be our governor – and that means Florida isn't going to be a safe place to live in," he said.
If the 2022 and 2023 sessions of the Florida legislature are anything to go by, DeSantis is betting that legislation targeting the state's transgender population and consolidating Tallahassee's control over the curricula of the state's public schools and universities will also strike a chord among voters in the Sunshine state and beyond.
Whether or not DeSantis does mount a presidential bid in 2024 remains to be seen, as would the eventual success of such a campaign.
In the meantime, university professors, schoolteachers and members of Florida's LGBTQ+ community will continue to feel besieged for the foreseeable future. Some educators predict the departure of many colleagues in the coming months and years.
"We have a governor and a legislature who are going rogue to harm the state," said the union president, Andrew Gothard. "These laws are going to cause a major exodus of faculty and students from Florida's system of higher education."