https://www.tomsguide.com/news/7-new-shows-and-movies-to-watch-this-weekend-on-netflix-hbo-max-and-disney-plus-april-14-16?
7 new shows and movies to watch this weekend on Netflix, HBO Max and Disney Plus (April 14-16)
By Kelly Woo
published about 6 hours ago
Barry, Marvelous Mrs. Maisel, Rennervations and more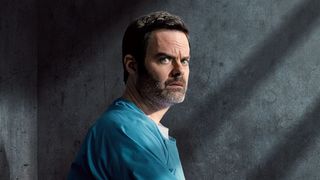 (Image credit: HBO)
A big bouquet of fresh new shows and shows arrive this weekend to watch on Netflix, HBO Max, Disney Plus and other streaming services. Fortunately, there's a bloom for everyone in the bunch, from a crime comedy to a historical epic to a meme-inspired mystery.
Our weekend watch list is topped by two returning series embarking on their final seasons. Barry season 4 and The Marvelous Mrs. Maisel season 5. One is a dark comedy about a hitman; the other is hit about comedy.
Several new series are making their premieres, including the wonderfully-recovered Jeremy Renner's vehicle makeover show Rennervations. Over on Apple TV Plus, Jennifer Garner headlines the thriller The Last Thing He Told Me.[HORRIBLE REVIEWS] And Waco: The Aftermath follows up on the 2018 series about the deadly massacre. 
Here's our guide on what to watch this weekend. 
Barry season 4 (HBO)
It's the end of the road for Barry and his circle of friends, lovers, enemies and mentors. The final season kicks off with the hitman entering prison, after he was set up and turned into the police by acting coach Gene (Henry Winkler). Behind bars, he grapples with who he is, what he's done and how to move forward.
Alongside him in incarcerated hell is former handler Fuches (Stephen Root). Meanwhile, Gene at first enjoys the fame that his relationship with Barry has wrought, but like any success on this show, it's fleeting. Sally (Sarah Goldberg) returns to her hometown, wrestling with her own inner demons. Hank (Anthony Carrigan) is trying to build a new life with Cristobal (Michael Irby), but can't escape the horrors he's experienced either. In Barry's world, outrunning your true self may be impossible. Read our Barry season 4 review for more thoughts.
How to watch Barry season 4 online on HBO Max(opens in new tab)
The Marvelous Mrs. Maisel season 5 (Prime Video)
Taking the stage for a fifth and final season, The Marvelous Mrs. Maisel will wrap up the titular character's journey as a stand-up comedian. After toiling away telling jokes in a seedy club, Midge (Rachel Brosnahan) is ready for a better gig. She sets her sights on The Gordon Ford Show, which could make her a household name.
Manager Susie (Alex Borstein) works hard behind the scenes to support Midge's career. Lenny Bruce (Luke Kirby) is as smoldering as ever, though his drug use becomes worrisome. Rose (Marin Hinkle) and Abe (Tony Shalhoub) have their own battles to fight. Meanwhile, Joel (Michael Zegen) is expecting a new baby with girlfriend Mei Lin (Stephanie Hsu).
Streaming now on Prime Video(opens in new tab)
The Last Thing He Told Me (Apple TV Plus)
Jennifer Garner headlines this thriller based on the bestselling novel by Laura Dave, who steers her own adaptation alongside co-creator Josh Singer (the Oscar-winning writer of Spotlight). Hannah is stunned when her husband Owen (Nikolaj Coster-Waldau) mysteriously disappears one day, leaving behind only a note asking her to protect his teen daughter Bailey (Angourie Rice).
Hannah forges a relationship with her stepdaughter in the hope that they can piece together clues about Owen's life. The FBI get involved, leading them to realize that Owen was hiding his true identity and Bailey could be in danger.
Streaming now on Apple TV Plus(opens in new tab)
Rennervations (Disney Plus)
Jeremy Renner has really been through it these last few months, after surviving a snow plow accident that left him with many serious injuries. He's largely recovered and has promoted his new docu-series with cheerful aplomb (and the aid of a cane).
In Rennervations, the Hawkeye actor uses his construction skills to reimagine and build vehicles for specific uses. He and his crew turn a tour bus into a mobile music studio, a delivery truck into a mobile water facility, a shuttle bus into a mobile recreation center, and a city bus into a mobile dance studio. Friends including Anthony Mackie and Vanessa Hudgens come along for the ride.
Streaming now on Disney Plus(opens in new tab)
Waco: The Aftermath (Showtime)
The Waco massacre continues to fascinate, with no shortage of documentaries and dramatizations during the three decades that have elapsed since law enforcement raided a Branch Davidian compound in Texas.
A sequel to the 2018 Paramount Network series Waco, The Aftermath focuses on the events following the deadly gunfight that ended with dozens of deaths. Michael Shannon reprises his role as FBI investigator and negotiator Gary Noesner, who goes on alert when he learns of a domestic terrorism plot by white nationalists. It's a foreshadowing of the rise of militia movements, increased Second Amendment activism, and outrage over government reach that carries through to today.
Streaming Sunday, April 16 at 10 p.m ET on Showtime and Paramount Plus With Showtime(opens in new tab)
Florida Man (Netflix)
The Florida Man meme provides a seemingly endless number of odd, unusual, absurd and downright wacky events carried out by men in the Sunshine State. You've probably seen it presented as a news story or headline beginning with "Florida man … " — insert "chews off another's face," "trapped in unlocked closet for two days," "arrested for trying to get an alligator drunk."
This Netflix series turns the meme into a comedic mystery. Mike Valentine (Edgar Ramírez) is gambling addict and ex-cop who returns to Florida to locate his mobster boss's missing girlfriend (Abbey Lee). Mike also wants to find her, since they had been having an affair for months.
Streaming now on Netflix(opens in new tab)
The Last Kingdom: Seven Kings Must Die (Netflix)
Seven Kings Must Die is the movie sequel to the historical drama series Last Kingdom, which ran for five seasons from 2018 to 2022. The story picks up with Uthred (Alexander Dreymon) torn between loyalties after the death of King Edward as two heirs, Aethelstan (Harry Gilby) and Aelfweard (Ewan Horrocks), vie for the throne of Wessex.
Uhtred initially supports his former ward, Aethelstan, but the prince has changed due to a dark influence. When his own people and lands are threatened, Uhtred is forced to ride to war again to protect what he holds dear and save the dream of a united England.
Streaming now on Netflix(opens in new tab)
What else to watch this weekend
Love Is Blind season 4 finale and live reunion (Netflix)
The couples say "I do" or "I don't" on their wedding days.
Finale streaming now on Netflix
Live reunion airing Sunday, April 16 at 8 p.m. ET
Cocaine Bear (Peacock)
A black bear ingests cocaine and terrorizes locals.
Streaming now on Peacock(opens in new tab)