All 16 costume changes are here: http://www.buzzfeed.com/ryanschocket2/taylor-swift-eras-tour-outfit-costume-changes

A review song-by-song: http://www.washingtonpost.com/music/2023/03/18/taylor-swift-eras-tour-setlist-costumes-recap/
http://www.washingtonpost.com/music/2023/03/19/taylor-swift-glendale-concert-scene/ [click thru for photos and video]
Taylor Swift's Eras Tour opening weekend: Tears, joy and 'therapy'
Fans descend on Glendale, Ariz. (a.k.a. 'Swift City') for a long-awaited chance to commune with their pop icon, revel in her lyrics and express their true selves
By Emily Yahr
March 19, 2023 at 3:09 p.m. EDT
GLENDALE, ARIZ. — Taylor Swift had endless choices when deciding how to kick off her first concert tourin nearly five years on Friday night, a captivating spectacle that stretched over three hours and included 44 songs. After starting with a brief snippet of "Miss Americana & the Heartbreak Prince," the namesake song to her 2020 Netflix documentary, she launched directly into "Cruel Summer."
As the track's hazy opening synth-pop beats blasted through State Farm Stadium, you could hear the gasps, with simultaneous shouts of "OH MY GOD!" barely heard above the ecstatic mayhem (and in some cases, heaving sobs) among the nearly 70,000 in attendance. Swift, resplendent in a shimmering bejeweled silver bodysuit and matching knee-high boots, beamed at the crowd, because she knew exactly what she was doing.
Swift fans believe that, in a parallel universe, "Cruel Summer" (the yearning anthem on her 2019 album, "Lover," about a steamy and toxic relationship, with a chorus that demands you sing-scream along) was destined to be the song of the summer of 2020, released as a single as Swift planned to embark on a series of festivals called Lover Fest. Obviously, the global bummer of 2020 happened instead. Yet the obsession with "Cruel Summer" persisted, especially because Swift had never performed it live.
Analysis | Taylor Swift's Eras Tour opener: A complete recap of all 44 songs
So this wasn't just a song. For many, this was a stinging, subconscious reminder of how much we lost and what could have been. It was also a moment of pure, delirious joy — not only because of the thrill of hearing a beloved song live for the first time, but also because it's clear that even one of the most powerful celebrities on the planet had felt all of that, too. It doesn't seem like a coincidence that at the top of her first show on her Eras Tour — 52 dates of sold-out stadiums — she wanted to pick up right where she'd left off before the world shut down.
"I don't know how to process all of this and the way that it's making me feel right now," Swift told the stadium when the song was over, her voice slightly shaking. Later, she added: "I'm really, really, really overwhelmed, and I'm trying to keep it together all night."
"Trying to keep it together" has rarely appliedto the 33-year-old Swift, who, nearing the end of a second decade as a professional musician, has ascended to a rare, glorified status as a once-in-a-generation pop star. She has no chill. After rising to fame with songs about herawkward, unpopular teen years, she now embraces cringe and earnestness. That's part of the draw for her legion of fans, who see her as one of them. After Ticketmaster melted down during sales for the Eras Tour, the parent company's chairman went on the defensive by pointing to the extreme demand, claiming that the number of people trying to buy tickets "could have filled 900 stadiums."
The Swifties shelled out hundreds — sometimes thousands — of dollars for tickets and travel and descended on Glendale this weekend, determined to make the often harrowing process of ticket-buying a distant memory. The Phoenix suburb, which recently hosted the Super Bowl, could hardly contain its excitement. The mayor declared it would temporarily change its name to "Swift City," and electronic signs on the highway encouraged safe driving with Swift puns: "CUT OFF? DON'T GET BAD BLOOD. SHAKE IT OFF." "RECKLESS DRIVING? YOU NEED TO CALM DOWN."
But that was nothing compared to the electric energy surrounding the stadium. To be a Taylor Swift fan is to learn to master the clues and secret messages that could be embedded in every lyric, public comment and social media post, no matter how opaque. To be a Taylor Swift fan is to always come ready, which includes devising the perfect outfit to wear to a concert, with unlimited options bestowed by the singer herself, who chose a tour theme, "eras," that celebrates her past and present.
Being in the crowd was like being in a force field where all pretenses are gone; Swift's music covers the spectrum of bubble-gum pop (which she refers to as "glitter gel pen lyrics") to deep introspective poetry, and her concerts are a place where you can dance or cry to either. Swift has laid bare her own insecurities and emotions over 10 studio albums and more than 200 songs. Here, in her presence and among one another, fans become their truest selves.
Scanning the crowd, you could see countless sequins and bejeweled skirts and jackets, an homage to the "1989" era. There were also dark blue dresses with stars for "Midnights"; red heart sunglasses, a black bowler hat and a T-shirt reading, "Not a lot going on at the moment," a shout-out to the "22" music video; dark lipstick and black leotards as a tribute to "Reputation"; lyrics scribbled down people's arms in marker, something Swift used to do before every concert; and No. 13 painted on hands, another former Swift tradition, from when she was starting out as a country star.
"My inspiration is the Red Tour, one of Taylor's iconic outfits, and I just wanted to re-create it," said Giacomo Benavides, a 26-year-old content creator dressed like a circus ringleader who traveled from Peru for the show.
Some were even more specific: Olivia Jackter of Tucson, 26, wore a traffic-light get-up that displayed the phrase "I don't know," referring to a lyric from the song "Death By a Thousand Cuts." Would non-Swifties understand it? Of course not. Did that matter? Of course not. "This was going to be my costume for Lover Fest. I've been waiting for this for years," Jackter said.
A group of 20-something women attached plastic Easter eggs to white T-shirts with photos of some of their favorite "Easter eggs" and hints that Swift has dropped over the years. One man dressed in a cat costume as Swift's newest pet, Benjamin. Two women whooped excitedlywhen they walked by each other in a line for food and saw that they wore matching floral dresses similar to what Swift wore to the 2021 Grammy Awards.
Another popular theme was "All Too Well," the searing breakup ballad that recently got a second life when Swift released the updated 10-minute version. Lots of fans wore outfits displaying those lyrics. Ivan Hernandez of Phoenix sported a blue T-shirt that read, "Where's the scarf, Jake?" — a reference to the song's supposed subject, Swift's ex-boyfriend Jake Gyllenhaal, and the lyric that suggests that he swiped her scarf.
"[My son] wanted to go to the concert, and he said, 'Let's wear outfits,' and I was like, 'Well, I'm not going to wear an outlandish outfit,'" said Hernandez, 46, whose 13-year-old son, Eli, was wearing an Eras Tour shirt they had bought at the merchandise standSaturday afternoon before Swift's second show. "So I just went online and started looking for something about 'All Too Well,' and this is the one that came up."
Swift, who misses nothing, praised everyone for their effort from the stage.
"You have really outdone yourselves, guys. The way that you decided to show up to this concert, you really, really decided to show up," she said, noting that she saw people dressed as mirror balls (from the song "Mirrorball"); willow trees (from "Willow"); and "sexy babies" (from "Anti-Hero" — and too complicated to explain). "I have seen, like, really amazing, specific visual representations of lyrics or weird online inside jokes that we have."
"I was thinking about tonight and how special this is," she added. "You have led me to believe, by you being here, that it's special for you, too, so it's really nice that it's mutual."
Swift's unusually close relationshipwith her fans started back when she was a country artist, a genre in which singers are supposed to think of listeners as their peers. Swift always went a step beyond, chatting with fans on Myspace back before Nashville executives even knew what that was, and that connection has continued to this day.
In concert, Swift referred to the journey that she and her fans have taken together, like they're a family. (The "four new members of the family," she said, are the four albums she has released since her last tour.) She made no secret of the fact that she monitorsfans' social media activity, even dryly noting that her 2020 record "Evermore," is "an album I absolutely love, despite what some of you say on TikTok." (People on the platform are convinced that "Evermore" is her "forgotten child.")
This is all why her bond with her fandom remains so strong. She connected early on to fellow teenage girls who inferred from society that their crushes and feelings and dreams were silly, only to find someone in Swift who took them seriously and who could articulate, in songwriting, what they didn't even know they were feeling.
"By the time she's done living through something and writing about it and releasing music, I'm living through it," said Briana McReynolds, 32, of Phoenix, who showed up in a T-shirt covered in lyrics, as well as a purple streakin her hair to represent "Lavender Haze," Swift's latest single. Her best friend, Chris, accompanied her to the concert as an "emotional support Swiftie." ("I'm doing my best," he said.)
"She's just accidentally kind of written the soundtrack for my life," McReynolds said. "She's matured with all of us, or we've matured with her. So no matter what age I am, she can totally sing my heart."
Caitlin O'Connor, 32, of San Diego came to the show with her mom; they have seen every Swift tour together for the last 15 years, and O'Connor makes sure to go multiple times.
"You don't need therapy; you need Taylor Swift songs," O'Connor said. Swift's concerts, she explained, "are my happy place, and there's nothing else like it. It's the most natural high you could get in your whole life." On her arm, she has a tattoo of lyrics from Swift's "Treacherous": "All we are is skin and bone, trained to get along."
"I love that line. Really, at the core, everybody is human," she said. "And that's also the thing with Taylor Swift concerts: Everybody is really nice. … You bond over something immediately."
Swift is highly aware of the world she's built, and she doesn't shy away from it. In a surprisingly direct admission, while introducing the song "Mirrorball," from her 2020 album "Folklore" during an acoustic set, she reiterated to the crowd just how intensely she's missed them over the past several years.
"I was thinking about how one of the songs that I wrote with you in mind during the pandemic was one of the first songs I wrote on 'Folklore,' and it was me writing about how badly I craved the connection that I feel from the care that you have directed my way," she said. "I was trying to think of a sort of eloquent way to say that I love you and I need your attention all the time."
The stadium quieted as she strummed and sang.
"I've never been a natural, all I do is try, try, try; I'm still on that trapeze, I'm still trying everything to keep you looking at me. 'Cause I'm a mirror ball. … I'll show you every version of yourself tonight."
And although she asked the members of the crowd for their attention, she didn't need to; it was already there, and it always will be.
**********
http://www.nytimes.com/2023/03/18/arts/music/taylor-swift-eras-tour-review.html?
Taylor Swift, Pop's Maestro of Memory, Returns to the Stage
The opening night of the star's Eras Tour traversed her 10-album career, revisiting crossover hits, rowdier experiments and more restrained singer-songwriter material.
Published March 18, 2023Updated March 19, 2023, 11:27 a.m. ET
GLENDALE, Ariz. — The most meaningful Taylor Swift recording of the past few years is almost certainly "All Too Well (10 Minute Version) (Taylor's Version) (From the Vault)," as layered and provocative as its title is unwieldy. A revision and expansion of one of her most gutting songs — the original appears on her 2012 breakthrough pop album, "Red" — it dissects a problematic, lopsided and ultimately scarring relationship with forensic detail. It's a scathing commentary on the ex who inspired the track, and it also has something to say about the version of Swift who first committed this story to song over a decade ago: Swift now understands things that Swift then couldn't possibly have known.
Around halfway through Swift's three-hour performance at State Farm Stadium here on Friday — the opening night of the Eras Tour, her first roadshow in five years — she was at the center of the long runway stage, elevated on a platform, holding 70,000 people rapt with this tale of righteous fury and anguish. Plenty were singing along with her, but somehow, the accumulated voices sounded like one huge hush, students in awe of the master class.
There were plenty of peaks during this concert drawn from the full arc of Swift's career — the first of a sold-out 52-date national tour that made news for its disastrous rollout of ticket sales — but none quite like this. Throughout the night, she zigzagged between stretches of high-octane hits from older albums and mixed-bag selections from more recent ones — celebration with splashes of duty. What this ambitious and energetic if sometimes scattershot performance underscored, however, was just how many pivots Swift has undertaken in her career, and how the accompanying risks can have wildly different consequences.
In modern pop parlance, album rollouts are often described as eras, but Swift's career hasn't always been that cleanly delineated. She's made a few key turns over the years, though — on "Red," when she divebombed into gleaming, centrist pop; on "Reputation," when she made some of her sleekest and most au courant music; and on "Folklore" and "Evermore," when she transformed into a woodland fairy.
The Cultural Impact of Taylor Swift's Music
Songs from "Red," one of Swift's most acclaimed albums, arrived mid-show, and they were potent wallops — a jubilant and cheeky "22" followed by the indignant "We Are Never Ever Getting Back Together" and "I Knew You Were Trouble." And when Swift, in a one-legged bodysuit embroidered with a snake motif, performed selections from "Reputation," she showed just how wrongly maligned that album was upon its release. "Don't Blame Me" was husky and alluring, while "Look What You Made Me Do," performed in front of dancers trapped in glass boxes dressed as old versions of Swift, brimmed with attitude.
Swift was cheerily, proactively defensive about "Evermore" — "an album I absolutely love despite what some of you say on TikTok" — but that segment of the show was particularly limp, especially the gloomy and spare "Marjorie" and "'Tis the Damn Season." And the jolt from the melancholia of that restrained singer-songwriter release to the brazen stomp of "Reputation" was awkward. Songs from "Folklore" fared slightly better, especially "Cardigan" and "Betty," but this section teetered toward melodrama, as if compensating for the less assured production on those songs.
The set list over-indexed on the four albums Swift released after her last major tour, supporting "Reputation" in 2018 — the chipper and jaunty "Lover," the one-two bucolic swaddle of "Folklore" and "Evermore," and "Midnights," released last October. But the Eras conceit also meant that Swift wouldn't have to exclusively lean on songs from these albums, which have in general been less popular, consistent and ambitious than her earlier ones.
She opened the show with a run of songs from "Lover," a hit-or-miss album that still yielded some excellent tracks. "The Man," performed in full office cosplay, was biting and hilarious, and "Cruel Summer" had an almost ecstatic chill to it. From there, she jumped back to "Fearless," her second album, and the first one made with an understanding that her relationship with country music might only be a dalliance. The earnest pleas in "You Belong With Me" and "Love Story" still had their old bite.
Before "You Belong With Me," she asked if the crowd was "ready to go back to high school with me," both a dare and a legitimate question. Of late, Swift — obsessive about memory and even more obsessive about lore — has made revisiting her old work integral to her public presentation. Her ongoing rerecordings project layers a veneer of artistic liberation atop a business tug of war with the owners of her master recordings. And the very notion of the Eras Tour suggests a desire to thread Swift's many selves into one, to find common cause between the 16-year-old who first shocked Nashville, the 33-year-old who has since become one of the defining pop stars of the 21st century and all the Swifts in between.
If this show was an opportunity to perform songs from all of those phases, she did not always choose the tracks that are truly the most emblematic of those moments in time — sometimes specificity doesn't age terribly well. (For what it's worth, a song it would have been great to hear from each album, chronologically: "Picture to Burn," "White Horse," "Dear John," "Stay Stay Stay," "This Love," "Dancing With Our Hands Tied," "Paper Rings," "Exile," "No Body, No Crime," "You're on Your Own, Kid.")
Fans did not appear to be playing favorites — many of them were dressed as Swift from various eras, or as song titles or specific lyrics, or as Swiftie inside jokes. And Swift herself tackled each period of her career — the dynamic ones and the flaccid ones alike — with real gusto, in outfits covered in glitter, or fringe or glittery fringe. Her stage was set up for both big-tent power and maximum intimacy; it jutted out into the crowd for almost the entire length of the floor. Sometimes, she joined her dozen-plus dancers in crisp choreography, like on " … Ready for It?" "Bad Blood" and, most vividly, "Vigilante ___," for which she performed an enthusiastic chair routine.
She concluded with a selection of songs from "Midnights," a challenging album to wrap a show of this magnitude — it's more an amalgam of old Swift ideas than a harbinger of a new direction. During "Anti-Hero," the screen behind Swift showed a version of her as a kind of King Kong, bigger than everyone and unfairly besieged, and on "Lavender Haze," she was surrounded by dancers hoisting huge cloudy puffs.
ADVERTISEMENT
Continue reading the main story
There was a distinct shimmer that ran through the night's final three selections, the tinny "Bejeweled," the spacey "Mastermind" and the needling "Karma." All of those songs, which can be brittle from a lyrical perspective, benefited from the scale of the production here.
But something far more meaningful had come just before that show-closing run. During an acoustic segment, she came out to the very farthest point of the stage, sat at a small piano and played her very first single, "Tim McGraw" (the only song she performed from her self-titled 2006 debut album).
In addition to "All Too Well (10 Minute Version)," it was the night's other pillar performance. It's a song about memory and the ways in which people fail each other, and she sang it heavy with regret and tinged with sweetness.
But unlike "All Too Well," which now benefits from the wisdom that time affords, "Tim McGraw" remained as raw as the day it was recorded. No real tweaks, no rejoinder from the new Swift to the old one — just a searing take on the sort of love that makes for a better song than relationship. There are some things Swift simply has understood all along.
https://www.theguardian.com/music/2023/mar/18/taylor-swift-eras-tour-review-arizona
Taylor Swift review – pop's hardest-working star gives Eras tour her all
State Farm Stadium, Glendale, Arizona
The electrifying start of the singer-songwriter's first tour in five years saw a mammoth, fan-pleasing 44-song set and extravagant staging
@adrian_hortonSat 18 Mar 2023 09.07 EDT
By Friday afternoon, there was a new destination in Arizona: Swift City, population 70,000 fans in town for the first stop on Taylor Swift's Eras tour, and designated by some of them on Google Maps as a place of worship. "Welcome to ERAzona," the 33-year-old pop star's publicist emailed me hours before the show, referring to one of the hashtags Swifties developed to tag their arrival for what was billed – and delivered – as an expansive celebration of her undeniably prolific catalog. Team Swift is, as ever, attuned to the online conversation around her; you cannot consume Taylor Swift music without dipping (or diving) into Taylor Swift content. This is an artist who, as some have argued, has come closer than Mark Zuckerberg to building a true metaverse and cultivated a famously chatty, close virtual relationship with her fans.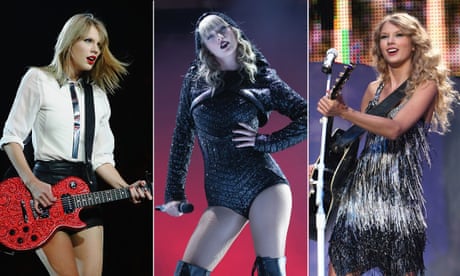 Those fans turned out in force on Friday night in Glendale – fittingly for the base of her popularity, a suburb, roughly the same distance from Phoenix as Hendersonville, the town in Tennessee where Swift attended her one year of high school, is from Nashville, home of the country music industry that shaped her early career. Mostly women and gay men (along with a few good sport boyfriends/husbands) dressed in the instantly recognizable iconography of her 10 albums – Reputation-era black leotards, Lover-era pastels, mock-ups of her 2021 Folklore Grammy dress, rhinestone-adorned bodysuits a la Bejeweled music video, and at least two men in "sexy baby" T-shirts (see: Anti-Hero).
From the outside, such intensity, courted by Swift with notorious Easter egging and rewarding, can be eye roll-inducing. But when viewed from inside the Swiftieverse, in a deafening stadium she comfortably commanded for over three hours, it is rapturous, especially for those who have grown up with her 17 years of diaristic music, and particularly for white suburban women for whom Swift is the most famous avatar.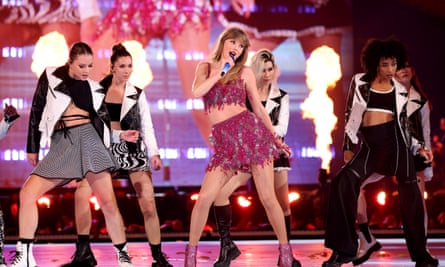 The Eras tour, as a show, is possibly the best-case scenario for fan service. Those who battled Ticketmaster and won were rewarded with a staggering 44-song setlist (about twice the number in her previous shows), some cut second verses but no mash-ups, that lasted the length of the movie Titanic (three hours and 12 minutes). It was a flex of unmatched productivity – since her last tour in 2018, Swift has released four original albums (or, as she put it, "we added four new members to the family" with Lover, Folklore, Evermore and Midnights) on top of two album re-recordings. And she dipped substantially into all of them. Going album by album (or, era by era) in color-blocked, outfit-delineated segments (including two sparkling bodysuits, a ballgown, two ethereal dresses, a one-legged snake suit, and the outfit from the 22 music video), Swift packed more than many TikTok speculators thought possible into one show, with almost no breaks and seemingly endless stamina.
The production was more Broadway extravaganza than singular concert – multiple set changes, from mossy Folklore cabin to high-rise office for The Man; a phalanx of backup dancers and four backup singers; color-synced bracelets for every audience member timed with the full array of stadium lights. The T-shaped stage with rising platforms provided each area of the floor with ample chances to ogle and photograph her; visuals (not subtle, as is her style) and staging drawn from her music videos blared on a giant curved screen behind her. Save for a few numbers, it was a less heavily choreographed routine than the Reputation tour (a good thing), more an enthusiastic acting out by Swift of each of her songs, as if engaging in a dead-serious karaoke battle with each of her screaming fans for 44 straight songs. (I mean this in the best way – her commitment to each bit did not waver.)
There wasn't time for much banter in between all this, though she made sure to cover the bases: gratitude for the crowd ("I don't know how to process all of this and how it's making me feel"), cheeky crowd-pleaser lines ("I love to explain to men how to apologize"), a nod at criticism of the woodsy Evermore ("an album that I absolutely love despite what some of y'all say on TikTok"). On that note, the scale of the production did make the earthy, whispery numbers on Folklore and Evermore (five and seven songs live, respectively), somehow work for a stadium (it helped that people sang along, as with almost every number, almost as loud as her vocals).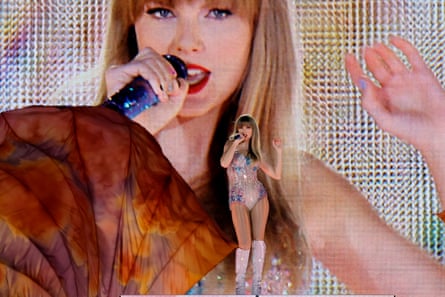 There were some sound issues, which seems less like a tour or performance problem than the challenge of projecting sound to a stadium full of 70,000 people screaming at the top of their lungs. When dialed up for the heavier, harder, synthier numbers (ie, anything not on Folklore or Evermore but especially Reputation, 1989 and Red), it could be difficult to hear her enunciate, or just grasp texture within the wall of cathartic sound. At one point, the volume on her mic seemed to go wildly up and down.
The best showcases for her vocal abilities, then, were when she returned to her roots: one woman and an instrument, as on the acoustic versions of Mirrorball and her first-ever single, Tim McGraw. And, most effectively, on the 10-minute version of All Too Well – the crown jewel in her songwriting catalog and the emotional highpoint of the evening, a number she commanded from silence to goosebump-inducing crescendo and back with guitar pick in hand.
Or, at least, my emotional highpoint. Pick any fan in the stadium, and they will probably name another song, maybe one not even sung (sorry to Speak Now fans, which got one track), as their favorite. In sheer scope of songs and devotion to lyrics, no artist can match her – a point she stomped home, from Miss Americana through the aptly titled Mastermind (with a dose of Karma at the end), in an indisputably epic start to the Eras era.