http://www.theguardian.com/world/2023/feb/27/ukrainian-volunteer-medics-film-aims-to-wake-up-the-world-to-reality-of-war
Ukrainian volunteer medic's film aims to 'wake up the world' to reality of war
Eastern Front, shown at the Berlin film festival, offers an uncensored view from the frontline of conflict
Kate Connolly in Berlin, Mon 27 Feb 2023 00.00 EST
A frontline paramedic volunteer in eastern Ukraine who has made a documentary about the gruesome everyday reality of his battalion's work has said he wanted to offer an uncensored view from the heart of the conflict in order to "wake up the world".
Yevhen Titarenko, a film director who has been part of a volunteer medical battalion, the Hospitallers, since 2014, said viewers may find his film Shidniy Front (Eastern Front) hard to watch but he believed it was a necessary means to tell the truth.
"The TV news is comparatively easy on the eye but this means people are not aware of how it really is," he said. "Some people say there are scenes in our film that are too disturbing to view. I say maybe it's about time people looked more closely at what's going on."
Titarenko has collaborated with the veteran Russian film director Vitaly Mansky, best known for films such as Under the Sun and Putin's Witnesses, who has spoken out against the Russian invasion of Ukraine and has been placed on a Kremlin wanted list for slander. Mansky's experienced eye helped to shape the film so that it appealed to a wider audience, Titarenko said.
Much of the film, shown at the Berlinale, depicts medics crisscrossing battlefields, through trenches and cratered forests, recording close up their hair-raising scrambles in a former British army Snatch vehicle or on foot, to save wounded soldiers while trying not to get hit themselves by the enemy shells raining down around them.
In one scene they dash through roadblocks in their ambulance with a badly wounded soldier, willing him to "hold on, hold on".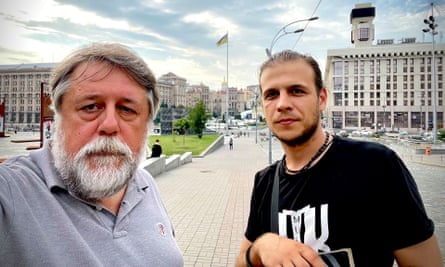 The film draws from 100 hours of footage shot mostly by Titarenko, nicknamed "Rezhik" (film director) by his colleagues, on camcorder, GoPro body cameras and mobile phones. There are images of wanton destruction in and around Kherson and Kharkiv – from burnt-out housing blocks to a field of hundreds of abandoned cows sunk into mud so deep they cannot move – and the rescue of a man who has lost his leg in a blast.
Medics enjoy rare moments of companionship and love with friends and family in bucolic settings, by a lakeside and at a summer banquet in a field in western Ukraine where they celebrate the baptism of one of their sons. In one scene, a hairdresser refuses payment for a cut, telling the medic: "When you come back, we'll drink to peace."
"We felt it was very important to do this to get the message across that we don't want this war but we are fighting Russia on behalf of the civilised world," said the film's producer, Nataliia Khazan "We're tired, we've already endured nine years of this," she added, referring to Russia's invasion and annexation of the Crimean peninsula in 2014.
Titarenko, 34, who once worked as a fixer for the Guardian in Ukraine, said the contrast between life on the eastern front and the glitz of the Berlin film festival felt bizarre.
"The world can't just stop, festivals have to continue, but I think to myself at the same time: the parade of chauffeur-driven cars, the beautifully made-up women strolling on the red carpet, all this is really only able to take place because Ukraine is stopping the doors to the madhouse from being blasted open by crazy people. People should recognise this," he said.
Mansky, who was born in Lviv, studied cinematography in Moscow and now lives in exile from Russia in Latvia, where he founded the international documentary film festival Artdocfest Riga, said he had teamed up with Titarenko in the hope of humanising the struggles of ordinary Ukrainians.
"The war has become like a habit," he said. "We listen daily for information on statistics – how many have died, how many rockets have been fired, but with the film we wanted to explain what a personal tragedy this is for everyone. The soil where these people were born is being torn from beneath them.
"I would not say we are happy to hear people's shocked reaction to our film, but we say we are happy if it wakes them up to the fact that these are real people with their fears, their hopes, their dreams, fighting for their country, not cyborgs from Hollywood blockbusters."
In the film, Titarenko is asked how, if it were a Hollywood story, it would end. "Everything would end with our victory, we'd reclaim all the territories and then we'd return home," he says. "Some people would even end up being shocked and not know what to do."