http://www.theguardian.com/world/2023/feb/23/pete-reed-tribute-former-marine-ukraine-mosul-iraq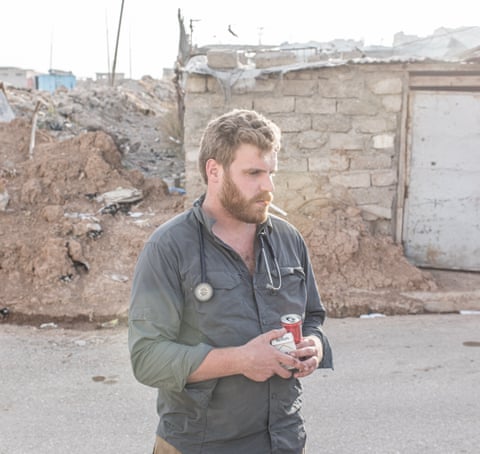 Pete Reed outside one of his clinics in Mosul, Iraq, in 2017. Photograph: Cengiz Yar
My friend Pete Reed was killed as he saved lives in Ukraine. You should know the good he did
A former US Marine, Pete took incredible risks to save lives, including acts of bravery during the battle of Mosul. He leaves behind the organization he built to serve on the frontlines
by Cengiz YarThu 23 Feb 2023 01.00 EST
On Thursday 2 February, my friend Pete Reed died as he tried to evacuate civilians in the Ukrainian city of Bakhmut.
Based on footage we now have of the incident, his vehicle was hit by a Russian anti-tank missile. He was killed in the blast, and others in his team were severely injured. Reports suggest it was likely a double-tap strike, a technique used frequently by Russia in Syria, where an attack is made to draw in additional support and recovery operations before a second attack is made.
Pete was one of the most selfless people I've ever met. You should know a bit about the good he did in this world.
I met him in the spring of 2016 over some drinks in Iraq, where I worked as a photographer. He was loud, a bit goofy, and trying to do some good. What good? He hadn't quite figured that out yet.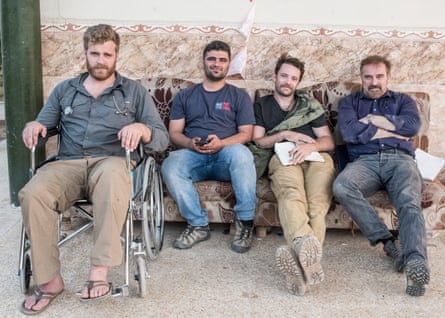 Like a handful of other US veterans during those years, Pete had initially tried linking up with one of the many groups fighting the Islamic State in Iraq and Syria. I'd often bump into those types around the region: sometimes at a frontline, but more often than not nursing whiskey at some bar. My roommate at the time, Campbell MacDiarmid, took to him quite quickly, and we all became fast friends. Pete got a job at a local clinic and then started a medical training program for Kurdish Peshmerga forces. He felt he had finally found some purpose and was genuinely helping people.
A few months later, the battle for Mosul started. Pete, along with a ragtag group of guys, rolled in alongside the Peshmerga on the first day of the offensive. Campbell joined them and wrote about it. It was a rough start to the offensive, and those early weeks were chaos.
As the Peshmerga's role in the offensive ended and the Iraqis took over, Pete changed course. He quickly set up an operating medical clinic just a short distance from the frontlines. A few westerners and Iraqis volunteered to help. One of my photographer friends, Alex Potter, who had been a nurse in the US, also decided to join in. Alex and Pete would eventually fell in love. They got married last year.
Pete's clinic was the only medical point anywhere near the fighting, and that small crew was quickly overwhelmed with casualties. The first time I visited the clinic, I was on the way back from reporting with some colleagues. Within minutes, an Iraqi Humvee sped into the dusty lot carrying mangled bodies on its hood. Pete and his crew went to work without thinking. One of the young boys was pulled off the vehicle already dead, but the other kid was still breathing. Pete worked to stop the bleeding on his shredded leg, rammed an IV in his arm, packed him up and sent him off to a hospital further back. The teenager wouldn't have lasted the ride without the clinic being there. Looking at Pete, his hands and clothing covered in blood, I remember being really impressed by him. He had literally just saved a boy's life in that dusty lot.
The fight for the city went on for another nine months, claiming thousands of lives along the way. The numbers vary but independent watch groups estimate between 2,500 and 5,000 civilians were killed in the fighting and over 1,500 Iraqi soldiers. Aid organizations estimate over 138,000 buildings were damaged or destroyed during the battle.
As the battle progressed, Pete's clinic followed the fighting forward. Always a few blocks behind the frontline, they handled the worst casualties imaginable. People would often die in the time it took to reach one of the aid points 30 to 45 minutes outside the fighting area, so they positioned themselves in a place no one else would go: too close to the fighting for larger aid groups to risk it, but close enough to actually treat the wounded in time.
They were shelled, mortared, shot at and car-bombed, but they stayed on. Over the next nine months, that small clinic would go on to save hundreds of lives, possibly thousands.
Besides the fight to save people and keep themselves safe, Pete's small group was constantly battling the bureaucracy of war, from the Iraqi permissions needed to operate in the city to the lack of funding to the day-to-day logistics. It was hell.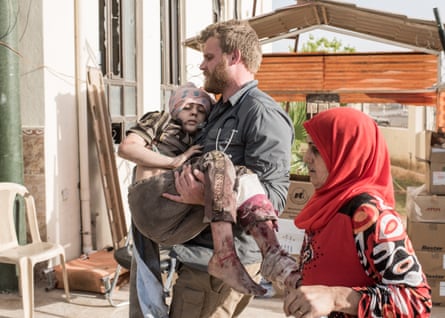 I'd get to visit with Pete back in Erbil when he'd take breaks from the clinic. Always jovial, still the loudest guy at the table. We'd drink too much and talk a lot. It went on like that for the whole war – rough days and late nights. But when he was working, that man's purpose shone. I'd often stop by at the end of a reporting trip, stepping down out of a Land Cruiser or Humvee, covered in dust and absolutely exhausted. Pete would saunter over, hand me a cigarette and give me the biggest hug in the world. A hug so big it fit in all the awfulness of the day. It enveloped all the pain and death, and yet made me feel everything would be alright. We'd chat for a bit, and then like clockwork, the bodies would start coming in again. He'd drop his half-finished cigarette on the ground and rush off to help.
In the years after Mosul, Pete continued to grow and build that small NGO he started, now called Global Response Management (GRM). They expanded their operations to Syria, Mexico, Guatemala, Sierra Leone and Yemen, and then eventually this year to Ukraine where he teamed up with GoDocs. He never stopped, always driven to help the most vulnerable in the midst of war.
His wife Alex flew to Ukraine and retrieved his body earlier this month. He was cremated and she flew his ashes back to the US. His family held a ceremony for him this past Wednesday, which you can watch here.
He was so many things to so many people: a savior, a friend, a husband, a boss, an uncle, a brother. I'm so glad I got to know him.