www.theguardian.com/commentisfree/2023/jan/03/lula-protect-amazon-brazil-bolsonaro?
Can Lula save the Amazon? His record shows he might just pull it off
Brazil's new president is determined to reverse Bolsonaro's scorched-earth approach to the environment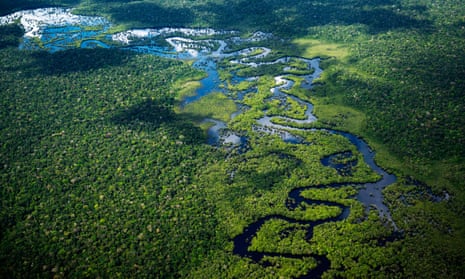 This week, as Brazilian president Luiz Inácio Lula da Silva was preparing to be sworn in for an unprecedented third term, a key concern was whether the weather would allow him to wave to assembled supporters in Brasília from an open-top convertible, as is customary. It certainly marked a departure from the more serious concerns that had haunted the transfer of power between him and his predecessor, Jair Bolsonaro, in previous weeks.
Thousands of Bolsonaro followers, after all, had refused to accept the outcome of last year's elections. Many camped outside military barracks urging the armed forces to intervene, committing serious acts of vandalism in the nation's capital. Thankfully, their pleas came to nothing – Bolsonaro unceremoniously left for Florida on the last day of the year – and Lula is officially back.
No president in Latin America's largest nation has ever won three elections, a testament to the former metalworker's enduring popularity and political relevance. Lula faces many challenges, particularly given the scorched-earth nature of Bolsonaro's policies. In this context, his first measures after taking office assume special symbolic importance, setting the tone for what observers at home and abroad might expect from this new administration.
This brings us to the fate of the Amazon rainforest. In his inaugural address to congress, Lula said, "Our goal is to achieve zero deforestation in the Amazon and zero greenhouse gas emissions in the electricity matrix, in addition to encouraging the revitalisation of degraded pastures." Implicitly criticising Brazil's major agricultural producers, which are overwhelmingly responsible for environmental degradation, Lula insisted: "Brazil does not need to deforest to maintain and expand its strategic agricultural frontier."
Among the first decrees he signed were measures strengthening environmental protections and fighting deforestation – one repealed a Bolsonaro initiative that effectively made illegal land-grabbing easier. During his time in office, Bolsonaro did almost nothing to enforce the country's stringent environmental protection laws. This was in part because he had little incentive to – major agricultural interests formed a key part of his political constituency. Lula's new measures also called on his environment minister Marina Silva, whose office was notably renamed Ministry of the Environment and Climate Change, to present new guidelines for the National Environment Council, which had been undermined by Bolsonaro.
A major challenge for Lula will be balancing Brazil's economic interest in a vibrant agricultural sector, which has become key to the country's foreign trade portfolio in recent decades, with the need to rein in the deforestation that has cleared thousands of acres of jungle to create new pastures for cattle. Agricultural interests are a major political force in Brazil. The fact that such interests so overwhelmingly supported Bolsonaro, a president who represented a direct threat to Brazil's democratic order, will make threading this particular policy needle very difficult for Lula. How to deliver on environmental protections while not further alienating agricultural interests that already distrust him?
At least for now, Lula shows no signs of giving ground to the actors driving so much of the country's deforestation. On his first day in office he also signed a measure recreating the Amazon Fund, which works as a mechanism for foreign governments to help pay for preservation efforts. As the Guardian reported last November, the fund was effectively paralysed under the previous administration; some 3.2bn reais (£500,000) that had already been donated were frozen.
The devastation of the Amazon rainforest that Bolsonaro allowed to happen was perhaps the most critical development driving a wedge between Brazil and much of the world in recent years. While leaders in western Europe and the United States fretted about Bolsonaro's disregard for the world's largest tropical rainforest, Bolsonaro accused them of seeking to undermine Brazilian sovereignty. Lula's new move has already garnered a pledge from German president Frank-Walter Steinmeier, who attended Lula's inauguration, of €35m (£31m) for the Amazon Fund. More is likely to follow.
The moves on the environmental front represent what is likely to be Lula's strategy in his third term: marrying a commitment to strengthening democracy and easing inequality at home with a reassertion of Brazilian relevance in global affairs. During Lula's previous stint in office, Brazil emerged as a world leader on matters of poverty reduction, wealth redistribution, and environmental protection. Under Lula, for instance, deforestation plummeted by a stunning 70%. The message of the incoming administration is clear: Brazil is back as a reasonable and effective player on the international stage.
Lula's return was celebrated – implicitly and sometimes explicitly – by various foreign leaders eager to see a Brazilian government committed to creative, bold and effective public policy and international engagement. But it won't be easy. Lula must deliver on the immense promise represented by his third term in office. Brazil's standing on the world stage and the continued vitality of Brazilian democracy might just depend on it.
Andre Pagliarini is an assistant professor of history at Hampden-Sydney College in Virginia. He is working on a book about the politics of nationalism in modern Brazilian history