Older but could come in handy
The full article is here: http://www.npr.org/2015/07/29/426731847/happy-ever-after-100-swoon-worthy-romances Below is the beginning of that article followed by the printable list found at: https://www.npr.org/2015/07/29/427477293/100-swoon-worthy-romances-the-printable-list
Happy Ever After: 100 Swoon-Worthy Romances
July 29, 20157:03 AM ET
NPR STAFF
Mary McLain/NPR
Any time is a good time for a hot read — and just in time, our annual reader poll is here! We're celebrating the NPR Books Summer of Love, and we have 100 great romance novels for you, from historical to paranormal to LGBTQ to the subgenre that started it all, category romance (the slim-spined Harlequins of your childhood).
Back in June we asked you to tell us about your favorite romantic reads, and you responded in droves. (We had to shut the poll down early after more than 18,000 nominations flooded in!) Once the votes were tallied, we turned to our expert panel, reviewers Bobbi Dumas and Sarah Wendell, and authors Sherry Thomas and Michelle Monkou, to help us break down the categories and shape the final list into a love story for the ages.
"It is my sincere hope and belief that readers new to the romance genre can pick up any recommended title on the list and find an interesting, affecting and satisfying read," says Thomas. We hope new readers and longtime fans alike will find a happily ever after here — but if we've left out one of your favorites, please tell us about it in the comments!
Here's a printable list [included at the bottom of this post] to take to your local library, and here are some quick links to make it easier for you to navigate: Historical, Classics, YA, Suspense, Science Fiction and Fantasy, Paranormal, LGBTQ, Erotic Romance, Inspirational, Contemporary, Category Romance.
Historical
Lord of Scoundrels (Scoundrels series)
by Loretta Lynda Chase•
We recommend the entire Scoundrels series in any order, but Lord of Scoundrels stands out for the matchless banter between gruff, unruly Sebastian Ballister, Marquess of Dain, and his lovely nemesis Jessica Trent — an unrepentant bluestocking who's determined to wrest her dimwitted brother Bertie away from Ballister's crowd of rowdies.
Indigo
by Beverly Jenkins•
Like so many of the authors whose names came up in this poll, it was hard to pick just one Beverly Jenkins book, but both our readers and our panelists agree, this story of love on the Underground Railroad is a standout favorite. Coming in a close second was another historical romance, Topaz, about a feisty newspaperwoman who ends up married, only slightly against her will, to a handsome deputy marshal.
Outlander (series)
by Diana Gabaldon•
One of the most popular picks in our poll, Diana Gabaldon's swashbuckling, century-spanning tale of a World War II nurse who tumbles backward in time to the Scottish Highlands in 1743 — and falls in love with a roguish young soldier — is now a hit television series.
Texas Destiny
by Lorraine Heath•
Houston Leigh survived the Civil War, though badly scarred both inside and out. But will he survive a dangerous journey along the wild trails of Texas with Miss Amelia Carson, his handsome brother's mail-order bride?
The Serpent Garden
by Judith Merkle Riley•
Left in debt when her philandering artist husband is murdered by his mistress's own jealous husband, Susanna Dallet must rely on her skills as a painter of miniatures to survive her new position at the court of the devious Cardinal Wolsey. Luckily, there's a wayward angel and a handsome but easily ruffled court secretary looking out for her.
The Madness of Lord Ian MacKenzie (MacKenzies series)
by Jennifer Ashley•
As with so many entries in this list, you really should read the whole series. But if we had to pick just one, it'd be this one. Brilliant and yes, troubled, Ian MacKenzie has been banished to an asylum by his cruel, powerful father. Freed upon his father's death, Ian makes an impulsive marriage proposal to Beth Ackerly, a wealthy widow who decidedly wants no more drama in her life.
The Bedwyn Saga
by Mary Balogh•
Mary Balogh is a prolific historical romance author, and readers gave the most votes to her books about the spectacular, seductive Bedwyn brothers and sisters. But we'd be remiss if we didn't also mention her excellent Survivor's Club series, about seven survivors of the Napoleonic wars who find themselves convalescing together at a stately home in England.
Ravished
by Amanda Quick•
Fossil-hunting rector's daughter Harriet Pomeroy summons the notorious Viscount St. Justin to sleepy Upper Biddleton to hunt the thieves who've been hiding loot in the caves where she works. Love, intrigue and a lot of old bones can't be far behind. Amanda Quick is a pseudonym for the prolific contemporary romance author Jayne Ann Krentz (who also writes futuristic romance under the name Jayne Castle).
The Wallflowers (series)
by Lisa Kleypas•
Lisa Kleypas writes solid contemporary romances too, but this series about a quartet of 19th-century young women who band together to conquer the London marriage market was a favorite with our voters and our panelists.
The Bridgertons (series)
by Julia Quinn•
You can start pretty much anywhere in this beloved series about an alphabetically named family (Anthony, Benedict, Colin, Daphne … all the way to Hyacinth). The Bridgertons are some of the most famous siblings in romance — and the books are also a lovely example of familial love surrounding the individual love stories.
The Brothers Sinister (series)
by Courtney Milan•
There's nothing actually sinister in this interconnected series of stories about very smart women (a chess prodigy, a newspaper publisher, a scientist and an astronomer, among others) and the left-handed men they fall for. Courtney Milan is a master of the intelligent relationship discussion — which, trust us, is incredibly romantic.
The Rules of Scoundrels (series)
by Sarah MacLean•
Four notorious aristocrats — Bourne, Cross, Temple and the mysterious Chase — have built their lives around London's most notorious gambling hell, The Fallen Angel. But love has a way of offering absolution (without making you give up the baccarat table).
Flowers from the Storm
by Laura Kinsale•
The dissolute Duke of Jervaulx is brilliant at both seduction and writing scientific papers — which he does with a blind Quaker mathematician. But when he's left speechless and straitjacketed by a stroke, it's up to the mathematician's daughter, Maddy Timms, to see that there's still a man inside the restraints — and to reconcile her Quaker faith with her growing love.
Spindle Cove (series)
by Tessa Dare•
The seaside town of Spindle Cove is often known as "Spinster Cove" because of its lively population of unmarried women. But even in this haven for disaffected or delicate ladies, love finds a way in.
Maiden Lane (series)
by Elizabeth Hoyt•
Regency England is one of the most popular settings for historical romance, but Elizabeth Hoyt steps back a century for the Maiden Lane books, set in a bustling, grimy 1730s London that teems with gin sellers and foundlings, noblemen and small, irritating dogs. And in the background is the mysterious Ghost of St. Giles, a sword-wielding vigilante who may be a guardian of the city's poor — or something more sinister.
Pennyroyal Green (series)
by Julie Anne Long•
The Everseas and the Redmonds rule the lovely Sussex, England, town of Pennyroyal Green — and the two powerful families can't stand each other. Naturally, that leads to secrets, grudges and all kinds of attraction, for the Everseas and the Redmonds, and anyone else who comes to town.
The Bride
by Julie Garwood•
When the king orders Scottish laird Alec Kincaid to take an English bride, he sets his sights on Jamie, the youngest daughter of Baron Jamison. But Jamie has sworn she'll never love such an arrogant, brooding Highland barbarian — and that's even before murderous rumors begin to circulate about Alec.
The Pink Carnation (series)
by Lauren Willig•
Lauren Willig takes the plot of The Scarlet Pimpernel and runs wild with it in this swoon-worthy series about florally named spies battling it out against the backdrop of the Napoleonic wars. Bracketing the historical romance is modern-day historian Eloise Kelly, who unmasks the titular Pink Carnation (and finds a love of her own) while researching her dissertation.
A Knight in Shining Armor
by Jude Deveraux•
We couldn't quite decide where to file this time-traveling romance, but eventually we went with the setting for the start of Nicholas Stafford's story. He's a 16th-century knight reincarnated in the 20th to clear his unjustly tarnished name, with the help — and soon the love — of Dougless Montgomery, an American abandoned in England by her faithless fiance.
Not Quite a Husband
by Sherry Thomas•
Our expert panelist Sherry Thomas landed on the list with this emotionally intense story of a young Victorian nobleman who travels the world to find his estranged wife — a rare-for-her-time surgeon who has made a new life for herself in a far corner of India.
Desperate Duchesses (series)
by Eloisa James•
Eloisa James is a professor of Shakespeare when she's not writing romance, and it shows in these sparkling stories, laced not just with Shakespeare, but also with Marlowe and Christopher Smart. It's almost as fun to play spot-the-literary-reference as it is to follow the adventures of James' exquisite duchesses.
Something Wonderful
by Judith McNaught•
One of Judith McNaught's most beloved books, Something Wonderful is the story of innocent country girl Alexandra, who saves cynical nobleman Jordan from a highway robbery — and winds up married to him after a misunderstanding. But Jordan doesn't quite know what to do with his young and very unexpected bride.
The Windflower
by Laura London•
At over 500 pages, The Windflower may be a little dense for some readers, but this tale of a gently reared young American miss swept away by a dashing English pirate captain is a classic of old-school romance — and it's finally been reissued after years out of print.
The Spymasters (series)
by Joanna Bourne•
The lure of the Napoleonic Wars proves strong again in Joanna Bourne's Spymasters books, featuring a cast of dashing French and British spies finding love amid the danger. Bourne's ability to write convincingly French dialogue — in English — makes this series a standout.
The Duke of Shadows
by Meredith Duran•
Emmaline Martin, betrayed by her caddish fiance, meets soon-to-be-duke Julian Sinclair in India just before the sepoy uprising of 1857. They fall hard for each other, but a deception keeps them apart until a cold London spring, years later.
Beast
by Judith Ivory•
Louise Vandermeer is 18, beautiful, rich, bored and very aware that her life is limited by those factors. To escape, she agrees to marry aristocratic rake Charles d'Harcourt sight unseen, unaware that a scar and a limp mar his looks. For a lark, Charles decides to travel on his fiancee's ocean liner and seduce her secretly in her darkened stateroom — but the prank backfires when he falls madly in love with his own wife to be.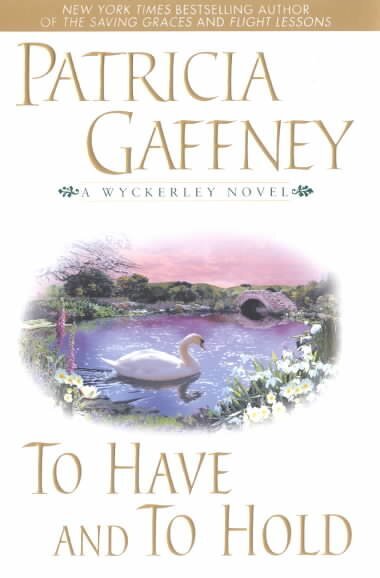 To Have and to Hold
by Patricia Gaffney•
Rachel Wade is finally free after years in prison for the death of her husband, a crime she did not commit. But as a thoroughly fallen woman, the only work she can find is as housekeeper to the cynical, jaded Viscount D'Aubrey.
The Captive
by Grace Burrowes•
Gillian, the Countess of Greendale, has survived a brutal first marriage. Christian, Duke of Mercia, has survived capture and torture by the French. When she takes over the management of his household upon his return to England, these two terribly damaged people begin to build a new life together. (This, too, is part of a series that's worth checking out in any order you want to read them.)
The Lotus Palace (series)
by Jeannie Lin•
Set in colorful Tang Dynasty China, these richly detailed romantic mysteries center on the celebrated courtesans of the Lotus Palace, who seem to attract as much trouble as admiration.
All Through the Night
by Connie Brockway•
Anne Wilder leads a double life: respectable war hero's widow by day, roof-crawling jewel thief by night — a dangerous pursuit that leads her straight into the arms of Colonel Jack Seward. But Jack doesn't know that the seductive thief who charmed him, and the honorable widow he loves, are one and the same.
Blaze
by Susan Johnson•
Portrayals of Native Americans in romance can be problematic, but our judges loved this story of a spoiled Boston heiress who heads west with her father to inspect some gold mines, and the Harvard-educated Absarokee leader who challenges their claims.
Morning Glory
by LaVyrle Spencer•
Widowed Elly Dinsmore has been treated cruelly in her small Georgia town. She's got two young boys and a third on the way, and she needs a man to help out. So she places a classified ad for a husband — and gets Will Parker, a lonely drifter condemned to live on the fringes of society after serving time for murder. Morning Glory takes readers on an emotional rollercoaster of love, betrayal, war and trials, but Will and Elly finally get their happy ever after.
Simple Jess
by Pamela Morsi•
In the aptly named town of Marrying Stone, Ark., widow Althea Winsloe has been given an ultimatum by the townsfolk: Find a husband by Christmas, or they'll find one for her. The last thing she expects is to fall for farmhand Jess Best, a good man who's been written off by the town because he doesn't think quite as fast as they do.
The Morning Gift
by Eva Ibbotson•
Ruth Berger, daughter of a Jewish professor, was meant to escape Vienna, but her plans went awry. As the Nazis march on the city, her father's colleague Quinton Somerville decides to rescue her with a quick marriage of convenience — he'll sweep her away to England, and they'll get a quick annulment. But neither Quin nor Ruth counted on falling in love.
A Lady Awakened
by Cecilia Grant•
Buttoned-up widow Martha Russell is desperate. If she doesn't produce evidence of an heir soon, her late husband's cruel family will seize the estate she loves. There's only one solution, obviously: She offers to pay her rakish neighbor Theophilus Mirkwood for a month of assignations. And Mirkwood is determined that Martha will get her money's worth.
The Summer of You
by Kate Noble•
Lady Jane Cummings is finally out of mourning for her mother, but her father is showing signs of dementia, and her brother has only just returned from the Continent, where he escaped the responsibilities Jane has had to shoulder. Jane needs a distraction, and it arrives in the form of reclusive neighbor Byrne Worth — who has mysterious ties to a highwayman who's been plaguing the area.
The Rake
by Mary Jo Putney•
Notorious wastrel Reggie Davenport is only good for gambling and drinking — until a relative offers him a second chance in the form of a manor house, complete with secretive estate manager Alys Weston. Romance ensues, but Alys' past and Reggie's alcoholism prove to be formidable obstacles to overcome.
Classics
The India Fan
by Victoria Holt•
Rector's daughter Drusilla Delaney becomes a companion to the spoiled, arrogant Lavinia Framling. But which will prove more dangerous to her — a supposedly cursed peacock feather fan, or Lavinia's brooding brother Fabian?
North and South
by Elizabeth Cleghorn Gaskell and Patricia Ingham•
Blurbed by Charles Dickens himself, North and South features one of the most memorable heroines in Victorian literature: Margaret Hale, who conducts a stormy romance with industrialist John Thornton while clashing with him over her quest to improve the lives of the workers in their gritty Northern mill town. A resonant mix of romance and social concern.
The Far Pavilions
by M. M. Kaye•
An epic tale of forbidden love during the British Raj. British botanist's son Ashton Pelham-Martyn is orphaned in India and raised to believe he's an Indian boy named Ashok. Anjuli is a neglected princess, condemned first to an unwanted marriage and then to suttee when her husband dies — but happiness beckons for Ash and Anjuli in the "far pavilions" of the Himalayas, away from the prejudices that have kept them apart.
Pride and Prejudice
by Jane Austen•
Jane Austen's most famous work was one of your favorite picks (second only to the Outlander series). So much has been said about Elizabeth and Darcy that now their place in the romance canon goes without saying — we'll just leave you with the mental image of Colin Firth diving into that lake.
Jane Eyre
by Charlotte Bronte•
A poor, mistreated heroine, a dour, misunderstood hero, and a mad wife locked in the attic — if that's not romance, we don't know what is! Reader, she did indeed marry him, and they lived happily ever after.
Venetia
by Georgette Heyer•
We couldn't have a romance list without Georgette Heyer, the venerable grandmother of the genre. And readers agreed, giving the nod to Venetia, her charming 1958 novel about a sheltered Regency beauty who sees the best in a notorious society rake and then convinces her family to approve the match.
YA
Eleanor & Park
by Rainbow Rowell•
Rainbow Rowell's story of two misfit kids who fall in love over mixtapes and comic books in 1980s Omaha, Neb., was one of our favorite books of 2013 — and a favorite with our voters, too. While the ending is slightly ambiguous, we choose to believe Eleanor and Park got their happily ever after. We love them too much not to!
Anna and the French Kiss
by Stephanie Perkins•
Anna is looking forward to her senior year in Atlanta, Ga., hanging around with her best friend and flirting with a hot co-worker at the local multiplex. But then her father decides to send her off to boarding school in Paris. Anna's misery begins to lift only when she meets the gorgeous (and, sadly, taken) Étienne St. Clair.
The Queen's Thief (series)
by Megan Whalen Turner•
A slight exception to our happily-ever-after rule, the romance in the Queen's Thief series gets off to a rocky start in the first book. But stick around for the next few volumes in this story of a master thief who steals the heart of a queen, and then must face the reality of being king.
Perfect Chemistry
by Simone Elkeles•
High school golden girl Brittany Ellis finds her life turned upside down when she walks into her senior chemistry class and ends up partnered with tough guy Alex Fuentes, a gang member who longs to leave the life and go to college. Things start to spark when Alex impulsively takes a bet that he can get Brittany into bed.
Adios to My Old Life
by Caridad Ferrer•
Singer and guitarist Alegria Montero wants to make it big, and she's hoping that a shot on a reality show will help her leave behind her boring life of playing family parties. But when she makes it to the finals of a competition for the "next Latin superstar," she has to deal with the whirlwind of publicity, professional jealousy and a budding romance with NYU production major Jaime Lozano.
Suspense
I-Team (series)
by Pamela Clare•
If you ever got annoyed that Lois Lane couldn't figure out Superman's secret identity, try Pamela Clare's I-Team books, featuring tough-minded investigative reporters who find love while digging up dirt on everything from environmental hazards to al-Qaida kidnappings.
In Death (series)
by J. D. Robb•
Nora Roberts makes her second appearance on the list (writing as J.D. Robb) with the long-running romantic suspense series, In Death. After a long debate, we named the Nora Roberts Rule after her: While many great writers were nominated, only Roberts is legendary enough to show up twice!
Nine Coaches Waiting
by Mary Stewart•
In this classic gothic suspense story, governess Linda Martin arrives at a mysterious French chateau to take care of the 9-year-old master of the house and discovers a sinister uncle, a dashing, sardonic cousin, and a possible plot against the life of her young charge.
Science Fiction and Fantasy
Psy/Changeling (series)
by Nalini Singh•
Nalini Singh's extensive Psy/Changeling series is set in a world torn between two races: The ruling Psy have awesome mental powers, but no ability to feel emotions. They punish any sign of desire, and they're on the brink of war with the shape-shifting Changelings.The action begins with one Psy desperately trying to conceal evidence of her feelings and the Changeling who sees her as the key to solving a murderous mystery.
The Iron Seas (series)
by Meljean Brook•
Steampunk is more than just a fashion statement in Meljean Brook's Iron Seas books, set in an alternate world where the Mongols conquered Europe with the aid of fantastical machinery. Dive in with the first book, The Iron Duke, about a military hero who falls for a police inspector when she comes to investigate a dead body dropped — via dirigible — at his doorstep.
Kate Daniels (series)
by Ilona Andrews•
Human technological progress has triggered a magical apocalypse, and mercenary Kate Daniels lives in the wreckage. She relies on her skills with a sword to protect her from enemies who want the magic in her blood — enemies who kill her guardian and throw her into the path of shape-shifter Curran, Lord of the Free Beasts.
Ember
Ember
by Bettie Sharpe•
Poor Prince Charming is cursed: Every woman who looks at him is instantly enslaved by love. And poor Ember turns to the dark arts in order to resist the prince's pull — but can he resist her? Bettie Sharpe reworks the story of Cinderella with, as she puts it, "sex, violence and naughty words."
The Inheritance Trilogy
by N. K. Jemisin•
N.K. Jemisin's tale of human women caught up in divine disputes is one of the best fantasy series of recent years, and also one of the most stirring romances: It's packed with gods and lovers whose bonds shape their world — and the worlds to come.
A Civil Campaign
A Comedy of Biology and Manners
by Lois McMaster Bujold•
Often described as "a Regency romance in space," A Civil Campaign stars Lois McMaster Bujold's memorable hero Miles Vorkosigan (and his clone brother Mark) as they scheme for the hearts of the women they love (and try to keep Mark's nonromantic scheme to engineer food-producing bugs from getting out of control).
Archangel
by Sharon Shinn•
In the fallen utopia of Samaria, an angel and a slave girl are thrown together in a divinely arranged marriage that proves anything but divine. Can Gabriel and Rachel overcome their differences in time to perform the holy rite that might save their planet?
Warrior's Woman
by Johanna Lindsey•
There are probably more sensible books by the great Johanna Lindsey — she's better known for the pirate yarn Gentle Rogue — but none so outlandishly fun as this tale of a space-faring security officer who lands on a planet of giant leather-trousered barbarian warriors and winds up claimed by the biggest brute of them all.
Paranormal
Charley Davidson (series)
by Darynda Jones•
Charley Davidson is a part-time private investigator and a full-time Grim Reaper, meaning she sees dead people and tries to guide them into the afterlife (and occasionally hunt down the people who left them dead). As if that weren't complicated enough, she gets caught up in a devilishly hot romance with the actual son of Satan — a relationship that only gets more intense as the series progresses.
The Black Dagger Brotherhood (series)
by J. R. Ward•
The Black Dagger Brotherhood is a band of entertainingly named (Rhage, Phury, Tohrment) and highly trained vampire warriors, brothers who protect their kind from vampire slayers when they're not falling for very special women. Ward has extended the series to include relatives and friends of the original brothers, but we recommend starting at the beginning with Dark Lover, the tale of vampire king Wrath.
Immortals After Dark (series)
by Kresley Cole•
In Kresley Cole's world, there are hundreds of paranormal races living secretly alongside humans. But every 500 years, war breaks out — and that time is now. Vampires and Valkyries, demons and sorceresses spark and court against a backdrop of supernatural battle in these award-winning paranormal romances.
Fever (series)
by Karen Marie Moning•
When MacKayla Lane's sister is murdered, a single clue leads her into the dangerous world of the Fae and an equally dangerous attraction to two men: the ruthlessly sexy alpha Fae V'lane, and the powerful, secretive Jericho Barron.
The Winter Sea
by Susanna Kearsley•
Novelist Carrie McClelland hopes to turn an obscure historical battle into a best-seller. But when Carrie discovers a strange connection to the events she's writing about, her novel — about a young Scotswoman battling English spies while falling for a dashing soldier with a price on his head — turns out to be more truth than fiction.
Cry Wolf
by Patricia Briggs•
Anna never knew werewolves existed until she became one herself, and not just any old werewolf. Anna is neither an Alpha nor a submissive but an Omega wolf, the rarest of weres, destined to bring peace to warring wolves and love to one of the country's most powerful packs.
Vampire Huntress (series)
A Vampire Huntress Legend
by L. A. Banks•
Damali Richards is a popular spoken-word artist and producer. She's also the Neteru, a special human born once every thousand years to fight the dark threat of vampires with a jewel-encrusted sword that's 7,000 years old. Can she keep the world — and her vampire lover, Carlos — safe?
Dark Hunter (series)
by Sherrilyn Kenyon•
We are Darkness. We are Shadow. We are the Rulers of the Night. And this is a very entertaining, long-running (and hot) series about immortal warriors dedicated to defending humanity. Immortality, it turns out, isn't so great without love.
LGBTQ
The Magpie Lord
by K.J. Charles•
Set in a version of Victorian England where magic is commonplace, this is the story of Lucien Vaudrey, who returns home to take up his title after the deaths of his father and brother. But he needs to fight the magic that's killing off his line, and for that he needs the help of quiet young magician Stephen Day — who bears no love for the Vaudreys.
Fated Love
by Radclyffe•
Four out of four panelists agree: You should read all of Radclyffe's books. Start with Fated Love, the story of trauma surgeon Quinn Maguire and the unexpected mutual attraction she feels with her boss, Honor Blake. The story really gets going when Honor begins to suspect Quinn is hiding something.
Hot Head
by Damon Suede•
Ever since the Sept. 11 attacks, Brooklyn firefighter Griff Muir has been stifling his feelings for his co-worker and best friend, Dante Anastagio. But then Dante runs into money troubles and proposes that the two friends put on a show for a website that specializes in hunks in uniform.
Cut & Run
by Madeleine Urban and Abigail Roux•
A killer is on the loose, and FBI Special Agent Ty Grady has been partnered with another agent, Zane Garrett, to crack the case — but it's hate at first sight between cocky, confident Grady and serious Garrett. They'll have to figure out how to stop bickering before the killer makes them his next victims.
Keeping Promise Rock
by Amy Lane•
Crick Francis found his true love at the age of 8: Deacon Winters. But Crick is sure he'll never be good enough for Deacon, and Deacon is too painfully shy to admit his own attraction. When they finally come together as adults, a misunderstanding leads Crick to make an impulsive decision that could tear them apart forever.
Butterfly Tattoo
by Deidre Knight•
Michael Warner has been dead inside ever since he lost his lover in a car crash. Their young daughter, too, is mourning her other father. But Michael begins to wake up when he meets Rebecca O'Neill, a former actress who's dealing with her own devastating losses.
Inspirational
Maid to Match
by Deeanne Gist•
Bright-but-poor Tillie Reese lands a job as a housemaid on the Vanderbilt family's Biltmore Estate in North Carolina. But her dream job is jeopardized when she falls for rugged footman Mack Danvers — after all, the help mustn't get involved with each other. Our readers also recommended Tiffany Girl, Deeane Gist's story of love at the 1893 Chicago World's Fair.
Redeeming Love
by Francine Rivers•
Francine Rivers retells the Biblical story of Hosea, setting it in Gold Rush California and turning the Old Testament prophet into a sympathetic rancher who heeds a divine calling to marry an abused prostitute.
Erotic Romance
Natural Law
by Joey W. Hill•
Alpha male homicide detective Mackenzie Nighthorse goes undercover in a bondage club in search of a murderess — and finds he's increasingly unable to keep his desires separate from his investigation. Especially when he meets Violet Siemanski, a young dominatrix who seems to know just how to unlock his hidden self.
Liberating Lacey
by Anne Calhoun•
Lacey Meyers is divorced after 15 years of boredom and bad sex. She just wants to have a little fun with studly young cop Hunter Anderson. Neither of them sees a future together … but they just can't seem to stay away from each other.
The Lady's Tutor
by Robin Schone•
Elizabeth Petre, the daughter of a prime minister, is a perfect Victorian wife, but her charms are lost on her cold, indifferent husband. Determined to win him over, she asks for lessons in seduction from the notorious Ramiel, who calls himself the Bastard Sheikh. At first enraged by her request, Ramiel eventually takes on the task, with the aid of The Perfumed Garden, a classic collection of Arabic erotica.
Contemporary
Bet Me
by Jennifer Crusie•
Minerva Dobbs is an actuary whose wild side only peeps out in her choice of shoes (plastic, kitten heels, cherries and goldfish). Cal Morrissey is a serial dater who takes Min out to dinner on a bet — which, no spoilers here, she already knows about. It's a tasty tale of love, Elvis records and really good Italian food, and as a bonus, it comes packaged with another Crusie favorite, Welcome to Temptation.
Heart of the Falcon
by Francis Ray•
Oil company engineer Madelyn Taggart has broken a lot of boundaries as a young black woman in a very white, very male field. She hasn't yet found a love to match her career success, but her brother's buddy Daniel Falcon — rich, suave and oh-so-handsome — might just fit the bill.
Something About You
by Julie James•
Both our judges and our readers love Julie James' FBI/U.S. attorney series. We recommend you start at the beginning, with the story of Assistant U.S. Attorney Cameron Lynde. Unwitting witness to a murder, she's thrown together with FBI agent Jack Pallas — who just happens to blame Lynde for a botched case three years ago.
The Chocolate Kiss
by Laura Florand•
Paris chocolatier Magalie Chaudron and her aunts are sorceresses of the sweet, stirring wishes into their cauldron of chocolate. Magalie's cozy world is threatened when the famous pastry chef Philippe Lyonais decides to open a shop nearby, but eventually she can't resist the temptation to venture out for a taste.
A Bollywood Affair
by Sonali Dev•
Mili Rathod was promised to her husband at the age of 4 and hasn't seen him since. But as a married woman, she has the freedom to leave India for America and education. Hotshot Bollywood director Samir Rathod just wants to find the woman his brother was shackled to and get her consent for a quickie divorce — but Mili is far more than he expected.
Dream Man (series)
by Kristen Ashley•
Paperback, 518 pages
Kristen Ashley's word-of-mouth sensation series was a big favorite with our voters, and we recommend you start with Motorcycle Man. Tack and Tyra meet and hook up at a tequila-soaked barbecue, but sparks fly when Tyra realizes her big new job is managing the office at Tack's custom car garage.
Chesapeake Bay Saga
by Nora Roberts•
Nora Roberts is a legend in the genre — so legendary, in fact, that she's the only author we let on this list twice. Many, many of her books were nominated, but our favorites are the Chesapeake Bay books, about the four adopted Quinn brothers — boat racer Cameron, boat builder Ethan, high-powered advertising executive Philip and artist Seth — and, of course, the women they love.
Lucky Harbor (series)
by Jill Shalvis•
Lucky Harbor is one of those delightful towns you find so often in romance — chock-full of lonely men and women starting over, and centered around a ramshackle inn run by sisters Maddie, Tara and Chloe. There are more than a dozen Lucky Harbor books so far, so pick one and dive in.
Chicago Stars (series)
by Susan Elizabeth Phillips•
Forget Da Bears — the Chicago Stars are the Windy City's hometown team in this series, and the focus of all kinds of romantic shenanigans from the moment New York hotshot (and, unfortunately, sports ignoramus) Phoebe Somerville inherits the team after her father's death.
Troubleshooters (series)
by Suzanne Brockmann•
If you like your heroes (and heroines) superheroic, the Troubleshooters are for you. Navy SEALs, FBI counterterrorism operatives and professional security guys tackle danger and desire in this long-running series. The most recent volume, Do or Die, was an NPR Books Concierge pick last year.
Virgin River (series)
by Robyn Carr•
The California town of Virgin River sounds like a great place to start over (or even just to take a vacation): towering redwoods, clear streams and, everywhere you look, hunky cops, former Marines, Navy officers and fighter pilots waiting for love to bowl them over.
The Mackenzie Family (series)
by Linda Howard•
A multigenerational family saga featuring Wolf and Mary Mackenzie and their adventurous children: Navy SEAL Zane, test pilot Joe, anti-terrorism operative Chance and their sister, horse trainer Maris.
Blue Heron (series)
by Kristan Higgins•
Dating is tough in tiny Manningsport, N.Y. (population 715), but the town is nevertheless home to all sorts of romantic adventures for the Holland family — sisters Faith and Honor, who run the Blue Heron vineyard, and their heartthrob brother, Jack. Brother and sister restaurateurs Connor and Colleen O'Rourke add to the complications.
The Madaris Family (series)
by Brenda Jackson•
Brenda Jackson has written over a hundred books, so we're kind of spoiled for choice, but we recommend you start with her first series, about the soapily sensational Madaris family and their romantic adventures. There are more than 20 books in just this series, so dive in anywhere!
Wild Seasons (series)
by Christina Lauren•
Christina Lauren's Wild Seasons series was a favorite with voters; the debut volume, Sweet Filthy Boy, about an American woman who has a wild Vegas weekend with a sexy Frenchman and decides on impulse to follow him to France, was named a Romantic Times Book of the Year in 2014.
Intimate Betrayal
by Donna Hill•
There's one story investigative reporter Reese Delaware can't get to the bottom of: the tragic accident that killed her family. But when she takes an assignment to profile Maxwell Knight, a secretive tech magnate, she begins to uncover some dangerous secrets. This was made into a movie for the BET network, but trust us — the book is better.
Crazy Thing Called Love
by Molly O'Keefe•
Unflappably professional morning show host Madelyn Cornish (any relation to our Audie? We wonder) is hiding a broken heart. And then the man who broke it, bad-boy hockey star Billy Wilkins, comes crashing back into her life when her producers decide he needs an on-air makeover.
Black Knights Inc. (series)
by Julie Ann Walker•
Biker boys and ex-Navy SEALs are two great tastes that taste great together in Julie Ann Walker's Black Knights Inc. books., about a bunch of Harley-riding toughs who are really a covert special operations team.
The Girl You Left Behind
by Jojo Moyes•
A 100-year-old painting is at the center of this emotionally gripping story, set partially in France during World War I and partially in the present day. Widowed Liv Halston treasures the portrait of an unknown young woman, a gift from her husband before his sudden death. And then she falls for Paul McCafferty, who just happens to be tracking down a painting that meets that description, appropriated by the Germans during the war.
Category
A note about the often-overlooked and misunderstood subgenre of category romances: These quick reads are most closely associated with pioneering romance publisher Harlequin, and come in dozens of subgenres from historical to inspirational. For many years, categories made up most of the romance market. And while the publisher-generated titles can seem a little … erm, silly (The Playboy Sheikh's Virgin Stable Girl, we're looking at you), if you like romance pared down to just the essential love story, category romances may be the thing for you.
Doukakis's Apprentice
by Sarah Morgan•
When Polly Prince's family business is taken over by the arrogant (but sexy) tycoon Damon Doukakis, she becomes his apprentice — and she's determined to be successful in her new job. Before long, she finds herself at Damon's side as he negotiates an important deal in a dangerously romantic city — Paris.
Sex, Straight Up
by Kathleen O'Reilly•
Part of Harlequin's steamy Blaze line, this is the story of a Sept. 11 widower whose beach romp with the daughter of a famous auction-house family turns serious when a scandal threatens to bring down her family business.
Her Hesitant Heart
by Carla Kelly•
Set in 1875, Her Hesitant Heart follows Susanna Hopkins, who has escaped an abusive husband for a new life on the frontier. When she hits Cheyenne, she runs out of money — and into the arms of military surgeon Major Joseph Randolph.
100 Swoon-Worthy Romances: The Printable List
Facebook
Twitter
Flipboard
Email
July 29, 20156:01 PM ET
NPR STAFF
It's the NPR Books Summer of Love, and we have 100 great romances for you, from historical to paranormal to LGBTQ to the subgenre that started it all, category romance (the slim-spined Harlequins of your childhood). Find the full list here — and below, a printable version.
Historical
Lord of Scoundrels, by Loretta Chase
Indigo, by Beverly Jenkins
Outlander (series), by Diana Gabaldon
Texas Destiny, by Lorraine Heath
The Serpent Garden, by Judith Merkle Riley
The Madness of Lord Ian Mackenzie, by Jennifer Ashley
The Bedwyn Saga (series), by Mary Balogh
Ravished, by Amanda Quick
The Wallflowers (series), by Lisa Kleypas
The Bridgertons (series), by Julia Quinn
The Brothers Sinister (series), by Courtney Milan
The Rules of Scoundrels (series), by Sarah MacLean
Flowers From the Storm, by Laura Kinsale
Spindle Cove (series), by Tessa Dare
Maiden Lane (series), by Elizabeth Hoyt
Pennyroyal Green (series), by Julie Anne Long
The Bride, by Julie Garwood
The Pink Carnation (series), by Lauren Willig
A Knight in Shining Armor, by Jude Deveraux
Not Quite a Husband, by Sherry Thomas
Desperate Duchesses (series), by Eloisa James
Something Wonderful, by Judith McNaught
The Windflower, by Laura London
The Spymasters (series), by Joanna Bourne
The Duke of Shadows, by Meredith Duran
Beast, by Judith Ivory
To Have and to Hold, by Patricia Gaffney
The Captive, by Grace Burrowes
The Lotus Palace (series), by Jeannie Lin
All Through the Night, by Connie Brockway
Blaze, by Susan Johnson
Morning Glory, by LaVyrle Spencer
Simple Jess, by Pamela Morsi
The Morning Gift, by Eva Ibbotson
A Lady Awakened, by Cecilia Grant
The Summer of You, by Kate Noble
The Rake, by Mary Jo Putney
Classics
The India Fan, by Victoria Holt
North and South, by Elizabeth Gaskell
The Far Pavilions, by M.M. Kaye
Pride and Prejudice, by Jane Austen
Jane Eyre, by Charlotte Bronte
Venetia, by Georgette Heyer
YA
Eleanor & Park, by Rainbow Rowell
Anna and the French Kiss, by Stephanie Perkins
The Queen's Thief (series), by Megan Whalen Turner
Perfect Chemistry, by Simone Elkeles
Adios to My Old Life, by Caridad Ferrer
Suspense
I-Team (series), by Pamela Clare
In Death (series), by J.D. Robb
Nine Coaches Waiting, by Mary Stewart
Science Fiction and Fantasy
Psy/Changeling (series), by Nalini Singh
The Iron Seas (series), by Meljean Brook
Kate Daniels (series), by Ilona Andrews
Ember, by Bettie Sharpe
The Inheritance Trilogy, by N.K. Jemisin
A Civil Campaign, by Lois McMaster Bujold
Archangel, by Sharon Shinn
Warrior's Woman, by Johanna Lindsey
Paranormal
Charley Davidson (series), by Darynda Jones
The Black Dagger Brotherhood (series), by J.R. Ward
Immortals After Dark (series), by Kresley Cole
Fever (series), by Karen Marie Moning
The Winter Sea, by Susanna Kearsley
Cry Wolf, by Patricia Briggs
Vampire Huntress (series), by L.A. Banks
Dark Hunter (series), by Sherrilyn Kenyon
LGBTQ
The Magpie Lord, by K. J. Charles
Fated Love, by Radclyffe
Hot Head, by Damon Suede
Cut & Run, by Abigail Roux and Madeleine Urban
Keeping Promise Rock, by Amy Lane
Butterfly Tattoo, by Deidre Knight
Inspirational
Maid to Match, by Deeanne Gist
Redeeming Love, by Francine Rivers
Erotic Romance
Natural Law, by Joey W. Hill
Liberating Lacey, by Anne Calhoun
The Lady's Tutor, by Robin Schone
Contemporary
Bet Me, by Jennifer Crusie
Heart of the Falcon, by Francis Ray
Something About You, by Julie James
The Chocolate Kiss, by Laura Florand
A Bollywood Affair, by Sonali Dev
Dream Man (series), by Kristen Ashley
The Chesapeake Bay Saga, by Nora Roberts
Lucky Harbor (series), by Jill Shalvis
Chicago Stars (series), by Susan Elizabeth Phillips
Troubleshooters (series), by Suzanne Brockmann
Virgin River (series), by Robyn Carr
The Mackenzie Family (series), by Linda Howard
Blue Heron (series), by Kristan Higgins
The Madaris Family (series), by Brenda Jackson
Wild Seasons (series), by Christina Lauren
Intimate Betrayal, by Donna Hill
Crazy Thing Called Love, by Molly O'Keefe
Black Knights, Inc. (series), by Julie Ann Walker
The Girl You Left Behind, by Jojo Moyes
Category Romance
Doukakis's Apprentice, by Sarah Morgan
Sex, Straight Up, by Kathleen O'Reilly
Her Hesitant Heart, by Carla Kelly