9to5mac.com/2022/11/10/apple-releases-new-firmware-update-for-airtag-item-tracker/
– Nov. 10th 2022 1:41 pm PT
Following the release of new firmware for the AirPods wireless earphones, Apple is also rolling out a firmware update for its AirTag item tracker on Thursday. Here's what you need to know about this new version.
AirTag firmware update
Today's new firmware release is version 2.0.24, and it features build number 2A24e. Prior to today, the most recent version of AirTag firmware was version 1.0.301 and featured build number 1A301. Unfortunately, it's uncertain at this point what changes with the update, as Apple has yet to share update notes for today's firmware.
The previous AirTag firmware was released on April 28, and according to Apple, it tuned the unwanted tracking sound to let people locate an unknown AirTag more easily.
To check the firmware version of your AirTag, open the Find My application on your iPhone, then choose the Items tab in the bottom navigation bar. Then choose your AirTag from the list of items, [OPEN IT] and tap on the name of your AirTag [ON THE MAP PAGE]. Doing this should reveal the serial number and firmware version of your AirTag.
Unfortunately, there's no way to force an AirTag to update. Instead, just make sure your AirTag is in range of your iPhone, and it should automatically update after some time. If you note anything different after updating the item tracker, let us know down in the comments section.
**********
http://www.macrumors.com/2022/11/10/apple-firmware-update-airtag-november/
Apple Releases Firmware Update for AirTags
Thursday November 10, 2022 1:48 pm PST by Juli Clover
Apple today released a new firmware update designed for its AirTag item trackers, with the firmware featuring an updated build number of 2A24e, up from the 1A301 firmware that was released back in April.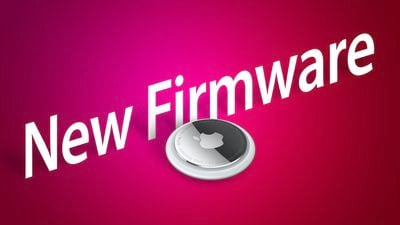 Apple does not provide release notes for AirTag updates, so we do not know what's new in this update.
It is not possible to force an AirTag update, as it's something that's done over-the-air through a connected iPhone. To make sure the update happens, you can put your AirTag in range of your ‌‌iPhone‌‌, but you have to wait for the firmware to roll out to your device. You can check your current AirTag firmware version through the Find My app, with instructions available in our how to.
Apple will provide this firmware on a rolling basis, seeding it out to AirTag owners starting today and through December 1. This staggered release timeline allows Apple to make sure the firmware update is working as intended before it is provided to all users.
Tag: AirTags Guide
Related Forum: AirTags