https://www.techradar.com/news/your-amazon-kindle-might-look-a-bit-different-soon-but-its-a-good-change
See also: https://goodereader.com/blog/kindle/amazon-introduces-new-home-screen-on-the-kindle?
Your Amazon Kindle might look a bit different soon, but it's a good change
By Tom Bedford August 18, 2021
Home screen redesigns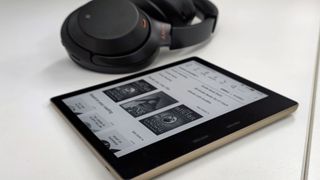 (Image credit: Future)
A new Amazon Kindle update is changing the way your ereader looks – not physically, of course, but with a software resdesign that spruces up the home screen design.
The new home screen looks roughly similar to the older one, but with some important changes. Mainly, the toolbar at the top is gone, and now one big search bar takes its place. There are also two buttons at the bottom, one for 'Home' and the other for 'Library', so you can easily navigate around – a central icon can also be used to jump into your last-read book.
The new update feels a little more like the Kindle Android app, which has a few of the same layout features, though it's still pretty similar to the older Kindle menu.
The best change, though, is for the quick-settings menu. Before, you had to tap around the top of the screen and hope these options would appear – now, an easy-to-see arrow near the top lets you swipe down to bring up the settings.
It seems this update is very popular, with Reddit threads full of people singing its praises – people have reported improved touch response and UI smoothness along with the redesign.
This new Kindle firmware update, version 5.13.7 for those who care, is currently rolling out to Amazon's ereader family – most devices should be eligible in the next few weeks. You'll need to connect to Wi-Fi to get it though.
---