https://www.hunker.com/13764300/meghan-markle-healthy-snack
This Is the Unusual Healthy Snack Meghan Markle Loves to Eat
By ANNA GRAGERT APRIL 14, 2021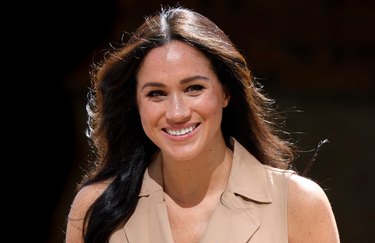 Image Credit: Pool/Getty Images Entertainment/GettyImages
After writing about and drooling over the lemon olive oil cake Meghan Markle recently baked, our curiosity got the better of us. We started looking into Markle's favorite foods and recipes, and, along the way, we came across something that made us tilt our heads.
According to an article Markle wrote for TODAY in 2012, she loves eating this unusual healthy snack: watermelon with cinnamon.
"I have always loved watermelon and relish any opportunity to eat it, whether plain or diced up with feta and mint and tossed with a little olive oil," Markle writes. "It makes me think of summertime. On set and at home, I try to always have a container of watermelon sprinkled with cinnamon because it elevates the flavor just a notch, and makes it feel special."
After a quick search, we were only able to find one recipe for this exact snack. So in our minds, that makes this fruity combination pretty unusual. However, we're still fascinated and can't wait to try it. We're interested to see if it truly takes the watermelon's flavor up a notch.
Leave it to Meghan Markle to get us excited about a new healthy snack.