Am not sure whether this program is widely available in the U.S. or not. Seems like a lot of trouble to go to for a $5 discount.
Amazon launches Kindle Challenge Award System
January 4, 2021 By Michael Kozlowski 17 Comments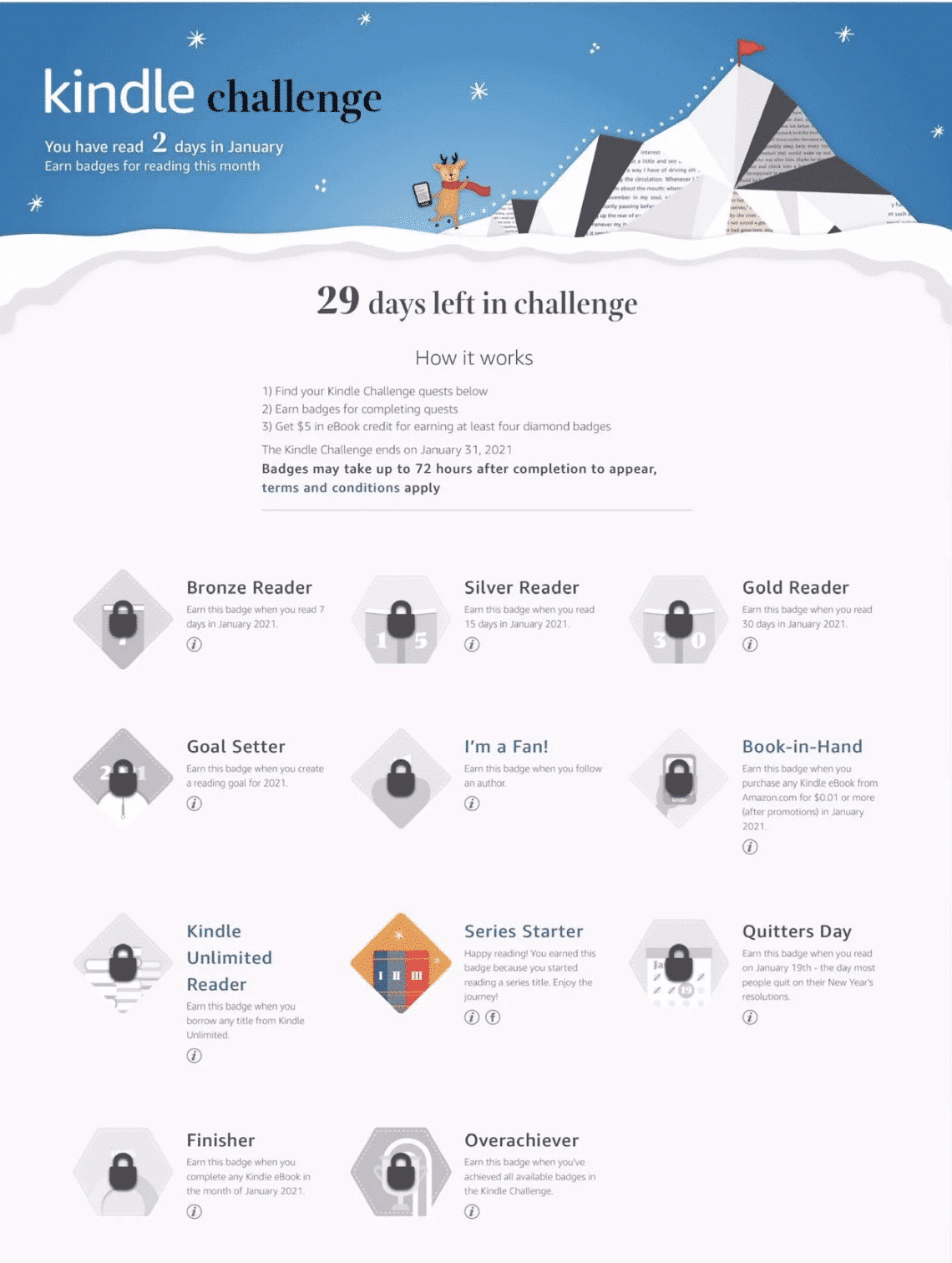 Amazon has just launched a new Kindle Challenge system. It allows users to engage in quests and get $5 in free ebook credit. The badges that you get revolve on a monthly basis and is designed to encourage reading, by dangling a carrot. This is a similar system that Kobo offers on their e-readers.
To receive a promotional credit, you must achieve at least four diamond-shaped badges between January 1, 2021, and January 31, 2021, at 11:59 PM PST. For more information on how to achieve each badge, click on the "information" icon next to each badge. Upon achieving at least four diamond-shaped badges during the challenge, a $5 eBook credit will be applied to your account by February 15, 2021. You will receive an e-mail from Amazon confirming that you have earned the credit. The credit will be automatically applied on your next ebook purchase. Reading based badges apply to Kindle books purchased or borrowed from Amazon.com, including Kindle Unlimited and Prime Reading and read on Kindle E-reader, the Kindle app, or Kindle Cloud Reader.
Kindle Challenges is only available for US readers and not other countries, or markets. The best way to get the free credit in January is to follow an author, activate dark mode on a Kindle e-reader, set a reading goal using a Kindle app, and borrow an ebook from Prime Reading. I think this new system adds in a certain gamification of reading and buying kindle books. Still, if you can spend 10 minutes a month, doing a few quests, the $5 credit will add up.
Update: I reached out to Amazon and asked about how people can get invited to the Challenge Program. "We don't have anything to share on the process but eligible participants would have received an email invitation. They can also log-in to their Kindle profile to determine eligibility."
https://goodereader.com/blog/kindle/amazon-launches-kindle-challenge-award-system
https://goodereader.com/blog/kindle/amazon-launches-kindle-challenge-award-system