This article is fun. Seven of these are routine in my diet, but solely by accident.
https://www.cosmopolitan.com/health-fitness/a34956688/superfoods-list-2021/
11 Superfoods That Are Going to Be *Huge* in 2021
Gimme all the kombucha. by KARA CUZZONE DEC 25, 2020
Like just about every other person on the planet, I'm very excited for the dumpster fire of a year to end. After all, with the coronavirus vaccinestarting to roll out as we speak and Biden-Harris set to take office in late January, 2021 is already lookin pretty good.
Another thing that makes me particularly excited about the new year? According to a nutrition trend report by Pollock Communications and Today's Dietitian, some of my favorite superfoods are going to be super popular over the next 12 months. Which means, hopefully, I can finally eat avocado toast for every meal without being judged.
But before we get into their predictions on what's going to be ~trendy~ in 2021, let's start with the basics. Like, do you know what makes something a superfood? Can't say I did. Per the Miriam-Webster Dictionary definition, a superfood is "a food (such as salmon, broccoli, or blueberries) that is rich in compounds (such as antioxidants, fiber, or fatty acids) considered beneficial to a person's health." In other words, superfoods = foods that have a lot of nutrients and health benefits.
Now that we've established what they are, let's get to the good stuff. Here, 11 superfoods that are primed to reach banana bread-level fame this year.
1. Fermented foods
Love a good bottle of kombucha, bowl of yogurt, or pickles straight from the jar? Then you're already familiar with fermented foods. Basically, they're foods that contain good bacteria and yeasts, aka probiotics. Kimchi is another great example.
Fermented foods help to support gut health, which can, in turn, support immune health, explains Samina Kalloo, RDN, CDN, national communications lead for Pollock Communications. And obviously, our immune systems are a huge priority these days.
Eat it: A bowl of yogurt topped with fruit, nuts, or nut butter for a drool-worthy, easy way to get some fermented foods in first thing in the AM. You can also pick up some kimchi and put it on a sandwich or in a soup, suggests Kalloo.
2. Blueberries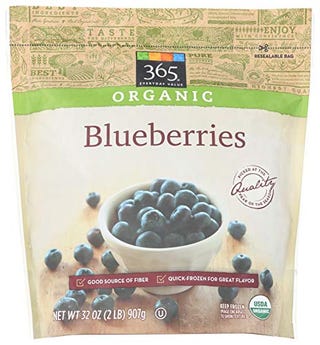 Everyday Value Organic Blueberries, 32 oz, (Frozen)365 BY WHOLE FOODS MARKETamazon.comSHOP NOW
If blueberries aren't already a staple in your fridge, they totally should be. They're really high in antioxidants, which are good for internal health, explains Kalloo. Oh, and they have a lot of fiber too.
Eat it: Add some bluebs to your morning oatmeal or pop some in a smoothie. Or keep them in the freezer and have a bowl for a refreshing snack, says Kalloo.
3. Seeds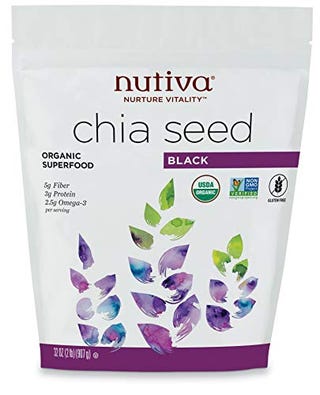 Organic Premium Raw Black Chia SeedsNUTIVAamazon.com$12.69SHOP NOW
Seeds—especially chia and hemp seeds—are already having a moment, and they'll continue to be big in 2021. "[They're] just a great way to add protein and fiber to pretty much anything you're eating," explains Kalloo.
Eat it: Combine chia seeds and almond milk, plus a bit of vanilla and cinnamon, leave it in the fridge for a couple of hours et voilà, you have some yummy chia pudding. An easy way to incorporate hemp seeds into your diet? Just sprinkle em on your avo toast, says Kalloo.
4. Exotic fruit
Yup, acai bowls aren't going anywhere any time soon. In fact, they're getting even more popular now since you can easily find acai in the frozen section of most grocery stories, says Kalloo. Maqui berry and pitaya will also be trending this year, adds Kelly Landrieu, global coordinator for local brands at Whole Foods Market. Sooo why are they good for you? Exotic fruits are a source of antioxidants, potassium, and fiber, Kalloo explains.
Eat it: Blend up some acai or pitaya and make a pretty smoothie bowl. Then Insta Story it, of course.
5. Green Tea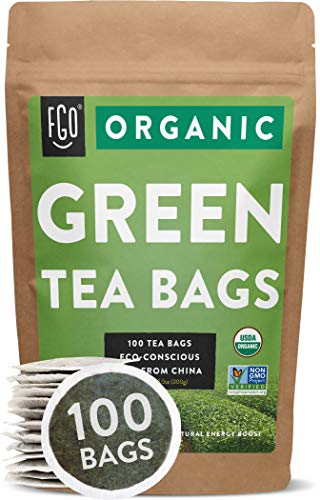 Organic Green Tea Bags | 100 Tea Bags FGOamazon.com$24.99$14.99 (40% off)SHOP NOW
Green tea sales are on the rise, prob thanks to the fact that it's know to support immune health. The drink is packed with flavonoids, powerful antioxidants that are good for overall health. Plus, it's anti-inflammatory so it can help your immune system calm from inflammation, explains Kalloo.
Eat it: In order to get the full benefits from green tea, make sure you brew it for at least three minutes, says Kalloo. You can also drink matcha, which is made from ground up green tea leaves, if you prefer.
6. Avocados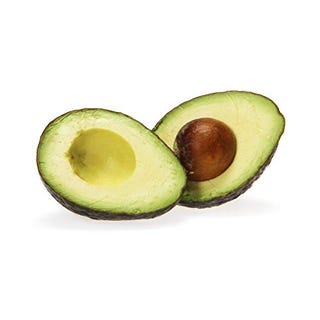 Apparently I'm not the only one who's obsessed with avocado toast these days. Pollock Communications' nutrition experts say avocado is one of the most-loved superfoods, and will continue to be in the new year. Which is a good thing, considering they're a major source of healthy fats.
Eat it: You don't need to eat a ton of avocado to reap its benefits. Kalloo recommends spreading 1/4 of one on a piece of toast, or adding some to a smoothie for some extra creaminess. 
7. Spinach & leafy greens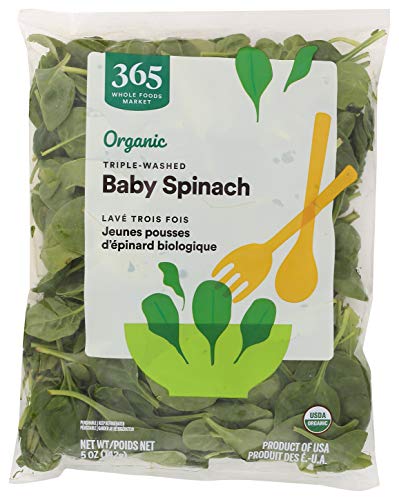 Organic Packaged Baby Spinach365 BY WHOLE FOODS MARKETamazon.comSHOP NOW
These guys are full of fiber and nutrients, so you should aim to incorporate them into your meals on the reg. Besides spinach, the leafy greens category includes things like mustard greens, kale, and cabbage, bok choy, and basically anything else that's leafy and green…
Eat It: Adding leafy greens to smoothies is a great way to get some extra greens in, says Kalloo. You can also sauté certain ones, like spinach, and add em to dishes like in the veggie bowl above.
8. Kale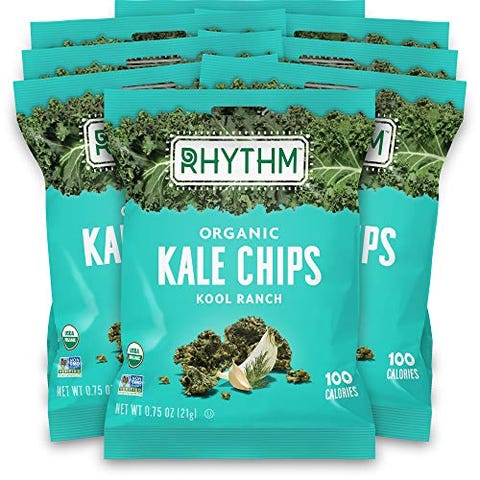 Rhythm Superfoods Kale ChipsRHYTHM SUPERFOODSamazon.comSHOP NOW
Sure, kale is technically a leafy green, but it gets its own spot on this list because it's so damn popular. The benefits are the same though—it provides a ton of fiber and nutrients.
Eat it: You could always go the smoothie route mentioned above, but Kalloo also recommends making kale chips. Make sure your kale is completely dried, then sprinkle the leaves with salt and pepper and toss them in the oven at 350 degrees for 10 to 15 minutes.
9. Nuts
Just like avocados, nuts contain lots of healthy fats which help give you energy and can make meals feel more filling. Walnuts are a good choice because they're high in omega-3 fatty acids, which support immune health and overall well-being, says Kalloo. 
Eat it: Obviously, there are a ton of different ways to eat nuts. (Hi, walnut brownies.) A couple of the easiest? Add some almonds or walnuts to your fave salad recipe or just grab a bag of trail mix to munch on. 
10. Ancient Grains
Here's a category of superfoods that you probably haven't heard of. Ancient grains is a term used to describe protein-, fiber-, and potassium-rich grains like amaranth, millet, teff, farro and freekeh, explains Kalloo. Think of them like rice—but with more nutrients.
Eat it: The most common way to eat ancient grains is to boil them, just like you would with rice or quinoa. You can eat them as a side dish, or make them the base for a veggie bowl like the blogger above did.
11. Salmon
Not a huge fan of walnuts? No worries, salmon is also an amazing source of omega-3 fatty acids (although technically a different type of them). It provides a lot of protein, too. And if you can only find the canned version, don't panic. You'll still get the benefits, says Kalloo.
Eat it: If you have a salmon fillet, Kalloo recommends grilling or baking it, and pairing it with a grain and some vegetables. With canned salmon, try making a salmon salad—you know, like tuna salad…but with salmon.