This is my neighborhood. I was thrilled when they turned the dancing fountain back on. This is another step on their part to brighten dark days.
An Incredible Light Display at Lincoln Center!
Mike Mishkin  December 11, 2020
Lincoln Center is lighting its iconic plaza and campus for all to enjoy, offering a space for reflection during this holiday season.
Elements of the installation – "Lights From Lincoln Center" – include illumination of Josie Robertson Plaza, alternating between a warm and cool-colored light display …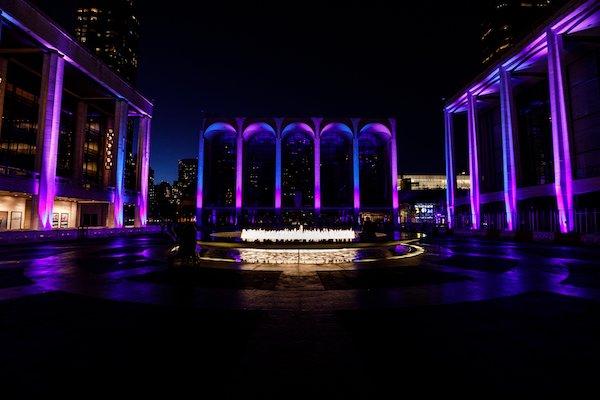 Advertisement
Floating lanterns on the Paul Milstein Reflecting Pool in Hearst Plaza …
… And lights on trees throughout the campus!
The installations become viewable around dusk and through the night, and will be on display through the New Year.
In addition to the lights by ARDA Studio, a new pair of murals from the same studio activates Amsterdam Avenue between 62nd and 63rd Streets. The vibrant and joyful pieces serve as a reminder of the vitality that defines this city, and fuse urban and natural elements in a design of bold color and movement.
Lincoln Center's outdoor spaces on campus are open to the public from 9am to 9pm. Visitors are required to maintain social distance, wear a face covering when on campus, and adhere to Lincoln Center's visitor guidelines, available here. Get the Upper West Side newsletter: Email *Submit