I'm referring to "Holidate" which is grabbing a lot of viewers on Netflix. As these two articles describe tho, it's not for everyone and certainly not for the younger set.
https://www.purewow.com/entertainment/holidate-netflix-review?
This New Movie Is Now #1 on Netflix—Here's My Honest Review (& Why I Wish I Watched it Alone)
By Greta Heggeness | Oct. 29, 2020
*Warning: Minor spoilers ahead*
If Hallmark's Countdown to Christmas isn't cutting it, you might be tempted to stream Netflix's all-new movie Holidate, which stars Emma Roberts and Luke Bracey. The film just premiered on the streaming service earlier this week, and it's already landed the number one spot on Netflix's list of most watched movies.
Holidate's description gives off major Hallmark vibes, following two singles as they try—and fail—to maintain a platonic friendship. It might sound like your typical PG-rated holiday movie, but it's far from family friendly. (More on this later.)
So, what is Holidate about? And is it worth the watch? Here's my honest review.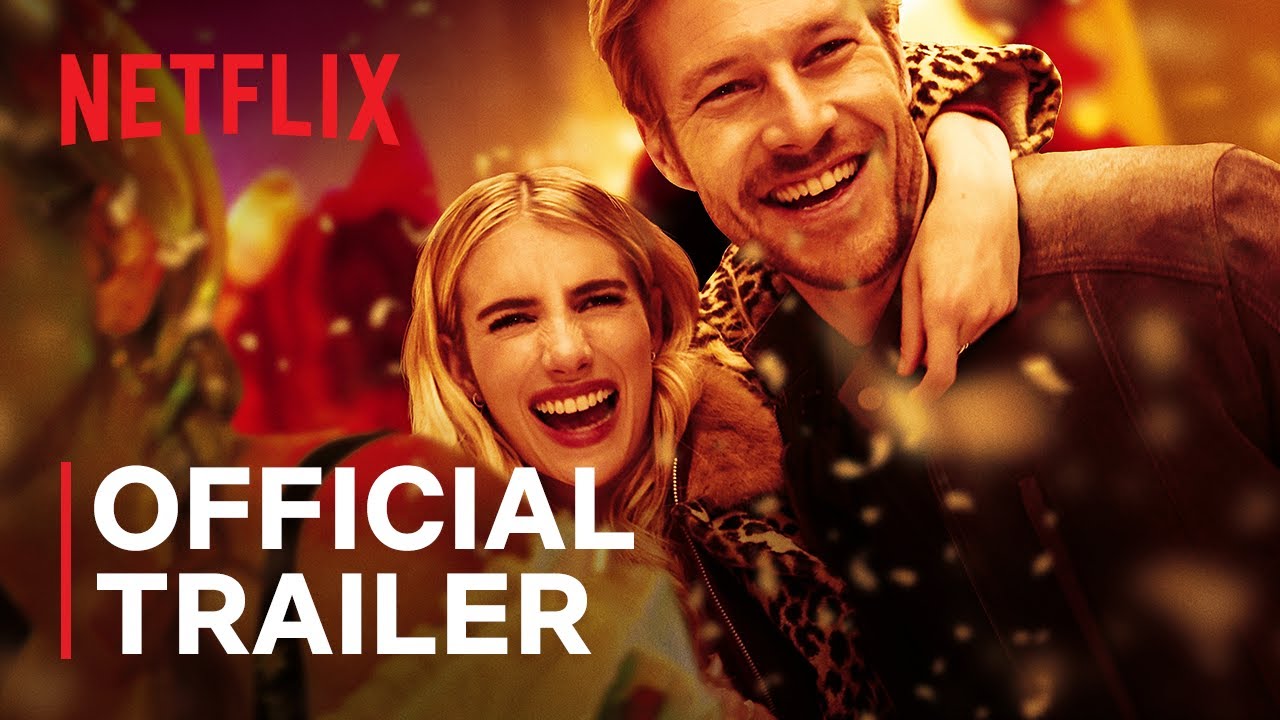 1. What is 'Holidate' about?
Holidate is a cross between Holiday Engagement and While You Were Sleeping…with a hint of Bad Moms. The movie introduces viewers to Sloane (Roberts), a twenty-something single woman who's fed up with her family always setting her up on awkward dates.
Right on cue, Sloane crosses paths with a handsome stranger named Jackson (Bracey), who can't commit to save his life. As predicted, they agree to be each other's "Holidate," which is a made-up phrase that's used to describe two people who are platonic plus-ones during the holidays.
The catch? The deal doesn't only apply to end-of-year events, like Christmas and New Year's Eve. It also includes Valentine's Day, Mother's Day and—dare I say—weddings. You might be able to guess what's going to happen next because this is a movie, and two people can't just be friends…right?
Full disclosure: The ending does have a bit of a surprise element, so it's not a total waste of time.
Steve Dietl/NETFLIX
2. Is it worth the watch?
I believe Holidate had the potential to become a must-watch flick, but due to the graphic dialogue, I can't recommend it for everyone. The story line seems like your typical Hallmark (read: semi-predictable) film…and it is. But it's also riddled with loads of R-rated jokes. I won't get into specifics (because, gross), but we're talking about everything from performing sexual acts in the car to forcing characters to scream, "F***." (The explicit version, of course.)
Because of this, Holidate might not resonate with every audience. That being said, it's definitely worth the watch if you're OK with crude, cheesy humor. I'm not saying you should run out and stream it with your elderly parents. In fact, I wouldn't even suggest watching it with a faint-hearted significant other. (After one sexual scene, my partnered hollered from the other room, "What on earth are you watching?!")
Instead, it would be best enjoyed with a glass of wine and group of friends, who are prepared for a combination of laughter and awkward chuckles. For example, I couldn't help but LOL when "Move B****" by Ludacris played while a group of children embarked on an Easter egg hunt. (Classy? No. Funny? Yes.)
So, was it worth the watch? Overall, yes. Do I wish I used headphones, so my partner (who was studying, might I add) didn't have to question my streaming choices? Sorta. On the bright side, Holidate reignited my love for Bracey, and for that, I'll forever be grateful.
**********
https://www.looper.com/269688/the-new-romantic-comedy-thats-taking-netflix-by-storm/?
The new romantic comedy that's taking Netflix by storm
Emma Roberts and Luke Bracey go through the holidays in Netflix's Holidate Netflix
By Mike Bedard/Oct. 29, 2020 11:06 am EDT
The holidays can be a stressful time of the year. There's the financial aspect: You're either spending a lot of money on presents or on food. There's also the personal aspect: You have to take time out of your busy schedule to fly or drive somewhere so that you can hang out with people you barely know (or do know and perhaps don't like). It's understandable that at a certain point, you'd just want to snap and do something unexpected.
That's the premise of the latest romantic comedy on Netflix, Holidate. The movie came out on Netflix on October 28, 2020, and it's already lighting up the streaming service's Top Ten. Seeing as how the film goes through an entire year of holidays, it's the kind of rom-com you can watch no matter the season — just be prepared for something a little different than your normal holiday-themed rom-com fare. (According to lead actress Emma Roberts, this isn't your mom's romantic comedy.)
What is Holidate about?
Kristin Chenoweth stars in Netflix's Holidate Netflix
Set in beautiful Chicago, Holidate follows two single people, Sloane (Emma Roberts) and Jackson (Luke Bracey), who are fed up with the holidays — all of them. Separately, they always end up at family functions single (which comes with a barrage of questions about when they're going to settle down), or with a date they're just not into. One day, Sloane and Jackson meet and form a pact: They will be each other's platonic plus-ones to all of the various holiday functions throughout the year. As such, they can avoid those awkward conversations while having a buddy with them to make the events more enjoyable.
While they may plan on staying just friends, that soon becomes easier said than done. As you'd expect from a rom-com, Sloane and Jackson begin develop feelings for each other. Will they get together and become one another's permanent holidate? You'll have to watch the movie to find out.
In addition to the two leads, Holidate also stars Kristin Chenoweth as Sloane's aunt Susan, who gives her the idea to have a platonic holidate in the first place. Rounding out the cast are Mikaela Hoover, Alex Moffat, Jessica Capshaw, Andrew Bachelor, and more.
Should you watch Holidate?
Emma Roberts and Luke Bracey in Holidate Netflix
You may initially think a movie called Holidate arrived a little too early when it dropped on Netflix in late October. (Can't Christmas just let the other holidays have a chance?) That's where Holidate whizzes past expectations. It follows its two likable leads through an entire year of holiday festivities. They set off fireworks for the Fourth of July, ring in the new year in style, and partake in some wild St. Patrick's Day antics. And though Christmas certainly plays a big role in Holidate, you could watch this rom-com any time of year and it would still feel relevant.
A lot of people seem to enjoy how self-referential the movie is. Romantic comedies have a reputation for being formulaic, but Holidate understands the tropes it needs to abide to and has fun with them. Tessa Smith of Mama's Geeky sums it up perfectly in her review by stating, "Holidate is hilarious, fun, a little bit predictable, and a whole lot of dirty! A romantic comedy that makes fun of romantic comedies."
In quarantine, where the whole year has felt like one long blur, Holidate is the perfect movie to make you forget your troubles and send you through 12 months of holiday-related shenanigans. You can watch Holidate on Netflix now.
Read More: https://www.looper.com/269688/the-new-romantic-comedy-thats-taking-netflix-by-storm/?utm_campaign=clip