People who would rather not buy ingredients (described yesterday) and then determine how to use them can instead buy kits with the same quality of ingredients but also with recipes/instructions so that buyers can attempt to replicate the meals they can't currently eat at their favorite restaurant.
https://www.thrillist.com/eat/new-york/best-meal-kits-nyc-restaurants-dishes-to-go
13 NYC Restaurants With Make-at-Home Meal Kits
By Liz Provencher Published On 04/13/2020 @lizprovencher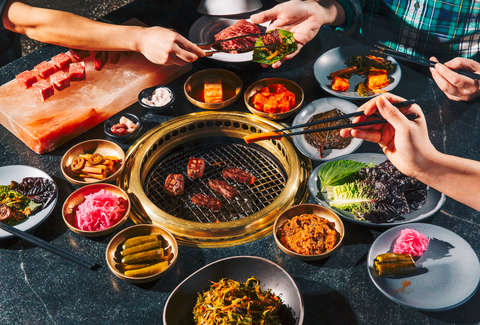 We miss restaurants. New York has been in quarantine mode for nearly a month now and while many of us are continuing to "eat out" by ordering from our favorite local takeout joints, it's never quite the same as being served the dish IRL. And many of us are exhausted and disgruntled from feeling forced to suddenly cook all our own meals (as writer Fran Lebowitz put it in a recent interview: "Last night I was peeling a cucumber and I was infuriated"). Could there be a more satisfying happy medium between soggy takeout and your own semi-shitty home-cooking?
Indeed there is: Many local restaurants are keeping their purveyors and employees working by offering meal kits that have all the ingredients and instructions you need to recreate your old favorite restaurant meals at home. From acclaimed fine dining restaurants and classic steakhouses to simple pizza joints and bakeries, it seems like everyone's getting in on the action. Now's the perfect time to take your home cooking up a notch, so do it with the help of these meal kits from your favorite NYC restaurants. Recommended Video Eat
Ghost Kitchen: This NYC Restaurant Chain is Providing Free Catering for Health Care Workers
Greenwich Village
If you've always dreamed of becoming a Michelin-starred chef, now's your chance. Blue Hill at Stone Barns, which is often lauded as one of the best restaurants in the world, is offering a build-your-own hotpot kit. The box comes with a rotating roster of raw and fermented vegetables, whole grains, local meats, and eggs, plus a menu that lays out how to turn it all into hotpot the Dan Barber way. You can pick it up from the original Blue Hill location in Greenwich Village or head up to Stone Barns about 45-minutes north in Tarrytown.
Cost: $150; Order pickup through Tock
East Williamsburg
The dining room, with its open kitchen and gritty warehouse-like facade, may be closed, but you can still indulge in the sought-after pizza and pasta (all without the two-hour wait). The pizza kits include ingredients to make a simple margherita pie or the shop's famous original, which is topped with caciocavallo, parmigiano, and chili flakes, and the pasta kits range from a simple cacio e pepe to a complex oxtail spaccatelli.
Cost: $15 for margherita kit, $16 for famous original kit, and $32 for pasta kits; Order through Caviar
Flatiron District
A cross between Korean barbecue and a traditional steakhouse, Cote already hands you the reins with grill tables in the dining room, but now you can take the steakhouse home for the first time. The steak care package includes four 16 oz. 45-day dry-aged ribeyes, the restaurant's signature salt blend, ssamjang sauce, and four assorted banchan (which translates to side dishes). For a fully homemade meal you can tack on the ssam kit, and you'll have all the fixings for Korean lettuce wraps you can eat as a side dish or appetizer.
Cost: $180 for steak care package, $12 for a small ssam kit, and $20 for a large ssam kit; Email prime@cotenyc.com to order
Bedford-Stuyvesant
The famed roast chicken from the youthful Bed-Stuy neighborhood spot is now available to make yourself at home. The whole chicken comes fully seasoned and cured – all you have to do is roast it in the oven and drizzle a half-pint of jus over the top once it's done.
Cost: $28; Place an order online between Monday at noon and Tuesday at noon, and your order will be ready for a contactless pickup at The Fly on Wednesday from 11am to 4pm
Brooklyn Heights
Before COVID-19 forced restaurants to close their dining rooms, Estuary was hosting a Sunday Gravy dinner for families to gather around the table and pass around some pasta. Now they are offering the dinner as a meal kit that serves four people complete with premade meatballs, dry pasta, sauce, bread, and salad fixings that can be easily thrown together as you prepare for another week at home.
Cost: $60; Call 718-618-9775 for takeout, or order delivery on Seamless or Grubhub
Astoria
Soup dumplings are tricky to make from scratch, but you can have them at home courtesy of Bund on Broadway. The shop is offering frozen soup dumplings, pork buns, wontons, and a menu of other staples for around $1 per piece, and they also have a 10-inch bamboo steamer and 10 pieces of steamer paper so you can prepare them yourself at home for $20.
Cost: Varies; Call 718-971-5465 at least 24 hours in advance to order pickup or delivery
Chelsea
If you've been in Chelsea Market, you've smelled the mouthwatering mini doughnuts at Doughnuttery. Now you can recreate that smell in your own home with a do-it-yourself kit that makes up to 30 doughnuts with one pound of mix, four different sugar toppings, and a doughnut dispenser for shaping perfect little rings.
Cost: $25; Order through Seamless, Grubhub, Postmates, UberEats, or Caviar
Cobble Hill
With yeast in short supply in stores, growing a sourdough starter is the ultimate DIY project for the COVID-19 era. June Wine Bar is helping you get in on the sourdough craze by offering a starter and one-pound bags of various types of flour. The starter is free with a purchase and bags of hard-to-find flour are about the same price you'd pay the store. Plus they have natural wines by the bottle, to-go cocktails, and select snacks to hold you over until your dough rises.
Cost: Sourdough starter is free and flour is $3.95 – $4.25; Order through Caviar
Kips Bay and Williamsburg
Alcohol-infused ice cream is this shop's claim to fame and a cocktail-making kit means you'll never show up to the Zoom happy hour empty handed. The cocktails will rotate regularly but each pack will come with Tipsy Scoop ice cream; bottles of liquor, wine, or beer; and garnishes, glassware, and paper straws to make your drink camera ready. Plus, you can watch along as bartenders make the recipes every Friday at 6:30pm on Instagram Live.
Cost: Varies by recipe; Order takeout and delivery online
Fort Greene
Let Colonia Verde deliver everything you need to have its fire-grilled Latin American fare in your New York City apartment. You may not have a cute back patio like Colonia Verde, but you'll feel like you're in the restaurant feasting on DIY chilaquiles or poblano pepper pasta. The restaurant also has frozen arepas and Brazilian cheese bread that you can easily pop in your oven.
Cost: $20 for poblano pepper pasta kit for two and $15 for chilaquiles kit for two; Order delivery one day ahead online
Eight locations in Manhattan and Brooklyn
That's right. Your regular fast-casual spot is offering DIY versions of your not-so-sad desk lunch. The farm box includes fresh produce and pantry staples from Dig Acres farm in Chester, New York that you can use to make select recipes available online. The chain also has kits to make its famous mac and cheese, cornbread, and kitchen sink cookies — plus family meals that give you everything you need to recreate some of the featured bowls like the Classic Dig.
Cost: Family meals are $34.90 – $47.76 and kits for mac and cheese, cornbread, and cookies range from $14-$24; Order pickup or delivery online
Lower East Side and West Village
You can make great vegan meals with all the lentils, rice, and beans you're stockpiled, but once you've exhausted your options at home, that's where Jajaja steps in. The vegan Mexican restaurant is serving its vegan proteins like jackfruit "carnitas" and spicy "chorizo" in 32 oz. containers with recipe suggestions so you can go freestyle or tack on other menu items like beans and rice to make a burrito bowl at home.
Cost: $15; Order on Caviar, Doordash, Postmates, Grubhub, or Seamless
East Village and West Village
Making homemade pasta at home may seem intimidating, but Fiaschetteria "Pistola" makes it doable. With this DIY kit, you'll get pre-made fresh pasta dough, flour for rolling, and two sauces to choose from with options like duck ragu and classic tomato. Then head over to the restaurant's Instagram where a chef shows you how to shape pasta at home using a wine bottle as a rolling pin.
Cost: $50; Call the East Village location at 212-777-3355, the West Village location at 646-609-2911, or order on Caviar