I've read three out of these five books — "The Uninhabitable Earth," "This Changes Everything" and "Drawdown" provide solid, usable information on not only what's happening and why, but on what you individually and governments can and should do about the climate crisis.
"Drawdown," in particular, is available in a large format with lots of beautiful photos, graphs, and side stories. I might even suggest it as a bathroom read as it has many short articles that don't need to be read in order. At one point, I sent a copy of this one to a fairly long list of friends and family.
Nobody who's ever listed to Greta Thunberg can be less than impressed by the grim but factual approach she is asking our legislators (and us) to take so a book of some of her past comments can't hurt if you'd rather read them then watch news reports about the climate crisis. Altho it's not available in ebook format, the paperback is only $2.83.
The fifth book — "This Is Not a Drill" — looks useful primarily for those intending to become activists on the front line of urging immediate action. So you may not need it now.
https://bookriot.com/2019/09/19/books-about-the-climate-emergency/
Get to Grips With the Climate Emergency With These Nonfiction Books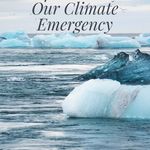 The world is changed. It seems that human civilisation has now threatened the ground beneath us, the water around us, and the air we flail through to live. Growing up, I knew it as 'global warming'. In the years since it has become 'climate change' and now, as I commence the third decade of my life, it is more resoundingly known as a 'climate emergency.'
There are those, world leaders among them, who deny the climate emergency – and so to preface this little list of books, we should state that they are wrong. The climate emergency is real. We are in the midst of the sixth mass extinction event. This is the Anthropocene, and the impact of humans on the earth cannot be overstated.
In the past few years, I have immersed myself in reading about the climate – from fossil fuels to the suppression of honeybee populations and the notion of re-wilding land to undo the ravages of industrial farming, I have been a sponge for learning about what I have contributed to. I make the same efforts as others – I reduce my use of single use plastic (and plastic more broadly). I'm fine with gooey paper straws. I walk a lot to avoid using even public transport. But a handful of people alone can't turn back a tide. The effort to reduce our impact and cease our own extinction needs everyone, from the largest corporation to the smallest family home.
Below are a few of the books that I have enjoyed most in my learning. Some of these scared me so much I couldn't sleep at night. Some are written by men, and some by women. Some are collective efforts. What is clear though, is that much of the science and knowledge we rely on was determined and written by white men. The underrepresentation of writers of colour in the field of climate writing is horrifying – particularly when the fossil fuel use of the Global North has mortgaged the future of the South. In time, I hope that trend can change, and more scientists of colour can come to the fore with their research, findings, and opinions.
The striking cover of this book depicts a single fallen bee. The message is clear and from front page to back, Wallace-Wells admits his own feelings of complicity in the destruction of the planet, determines that we must change our behaviours and sets out to chart what the future will look like. In essay-style chapters arranged around themes like Heat Death and Hunger, Wallace-Wells is here to scare you.
Presented fresh off the back of the global climate protests by non-hierarchical group Extinction Rebellion, This is Not a Drill is a handbook for climate activists to know their reasons and their rights in the midst of rebellion. Pinpointing key facts about climate change, coupled with aesthetically pleasing illustrations and stories from the frontline. The book is a gentle push in the right direction.
If I had somehow acquired Thunberg's emotional maturity and clarity of purpose at 16, it would be been a miracle. This tiny book collects some of her key speeches and thoughts on the climate emergency, long after she first commenced her School Strike. Small but mighty, it makes me feel hopeful and it merits inclusion for that reason alone.