https://bookriot.com/2019/07/23/readers-advisory-tools/
14 Great Readers' Advisory Tools You May Not Know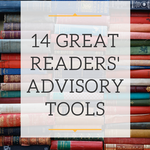 One of my favorite tasks as a librarian is readers' advisory. I enjoy doing it so much that I applied to write for Book Riot so I could have another outlet for my love of readers' advisory. Although I tend to read relatively broadly, I'm unfortunately no Liberty Hardy, who regularly reads several hundred books a year. So, in doing readers' advisory, I sometimes have to refer to readers' advisory tools to ensure I'm pinpointing the best possible options for a reader looking for a good book. Readers' advisory is more of an art than a science and no two readers' advisors will come up with the same list of books for a reader, but these readers' advisory tools can offer guidance when you're out of your genre or depth.
If you're not a person who performs readers' advisory, keep reading! You may find some great resources for figuring out what to read next yourself.
This blog provides a list of linked genre tags as well as posts that offer lists of read-alikes. Four librarians contribute to some pretty out-there lists, including read-alikes for the popular movie Elf, books for fans of Taylor Swift, and more. In addition to being a great resource for suggesting books to readers, Kitchen Sink RA could spark some excellent ideas for book displays and lists of your own.