This article is just for the fun of it. The theory is that the HBO show "Game of Thrones" changed substantially in tone and feel during its latter seasons because fewer words were included in each episode.
I always think of "Freakonomics" by Stephen J. Dubner and Steven Levitt when anyone sagely suggests that fact A must be the cause of consequence B, when they may have nothing to do with each other. For one thing, as noted below, the increasing number of battle scenes changed the tenor of the show in many ways and reduced the number of words spoken in each episode. For another, the show went beyond what George R.R. Martin (the author of the books underlying the show) has yet published and thus the show's writers lacked the guidance of the tight construction of the books. Many reasons, but people will argue endlessly anyway.
https://www.buzzfeed.com/crystalro/dialogue-game-of-thrones-chart-decrease
This Data Might Explain Why "Game Of Thrones" Felt So Weird In The Later Seasons
It is known.
Well, according to a chart using data from opensubtitles.org, there may actually be a reason why the show felt so weird as it went on — basically, the data shows that the number of words in each episode declined throughout the show:
Of course, fans were quick to make jokes, specifically about their frustrations with the final season: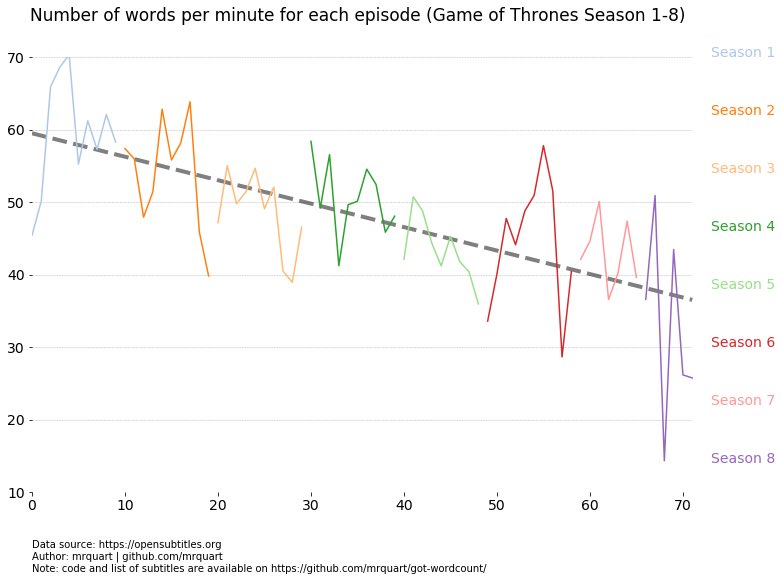 While others pointed out how the increasing lack of dialogue actually made sense:
It also sparked a conversation about the lack of dialogue among the female characters on the show:
And while you could argue that the increasing lack of dialogue each season may be a "reason" why some fans felt dissatisfied in the end, there's no denying that it did not stop the growing popularity of the show:
11 comments
|
Sign in to comment