Italy plans to cut back on the number of visitors allowed into Cinque Terre, a particularly picturesque section of its north-western coast. Around 2.5m tourists visited the area in 2015; this year, numbers will be limited to 1.5m. Such a drastic move raises questions about the impacts and benefits of mass tourism – and particularly cruise ships.
This region of the Italian Riviera, characterised by its charming seaside villages set against rugged terrain, was once difficult to access and off the beaten path of mass tourism. Cruises helped change all that.
These ships began docking in the nearby port of La Spezia just a couple of decades ago, and several now arrive every week. This brought immediate economic benefits to the region. However, as the numbers of tourists have grown each year, the strain on local infrastructures has become too much to bear. Last year, nearly 650,000 of those Cinque Terre tourists came from cruise ships.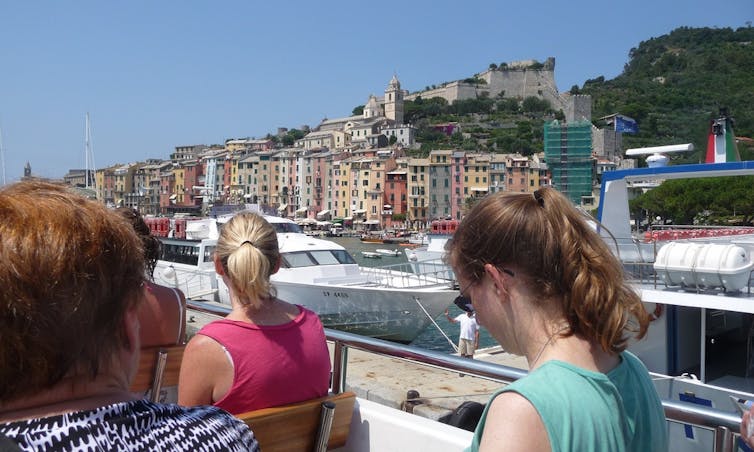 These are small villages in precarious locations and therefore lack the necessary water, sewerage, electrical, and transportation services to accommodate such a rise in demand. While there are a few public toilets in Cinque Terre, these are not enough – and residents now report tourists using footpaths and even private gardens to relieve themselves.
Everyday life among tourists
None of this is new. Venice should already have provided a warning of the damage wrought by too many cruise ships. More than half of the historic city's population has left since 1980, when its popularity as tourist destination skyrocketed, and fewer than 58,000 people live in the city today. Their numbers are dwarfed by the 100,000 or more tourists per day during the peak summer season, up to 30,000 of whom are on a cruise.
Most major ocean liners hold 3,000 or more passengers. These large ships allow the number of visitors to the city to exceed its physical capacity, as determined by hotel rooms. This makes everyday life cumbersome. Strolling tourists clutter the footpaths, pausing to take photographs. There are lengthy queues for water taxis, the rates of which have risen because of demand. This is reflective of prices throughout the city.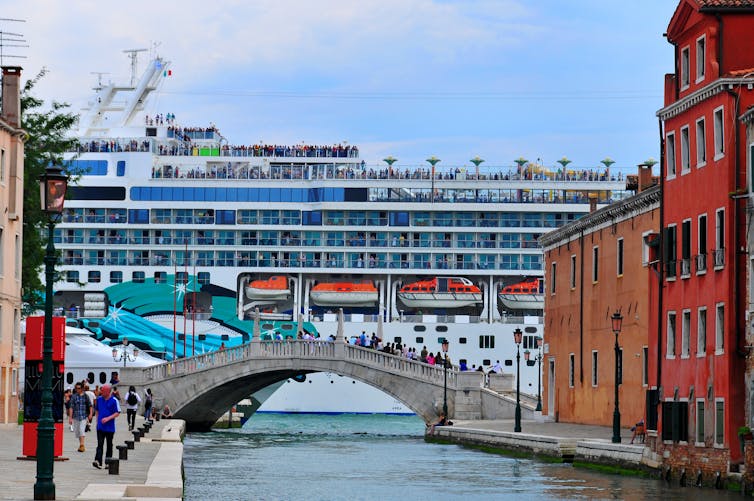 Within the city, tourism is prioritised because of the money it brings in. Property prices continue to rise and residents find it difficult to afford housing in the city. Market stands are steadily closing down as they cannot compete for space in the campi with cafés and pubs, let alone the souvenir shops bursting with Venetian masks. Basic services for life in the city are diminishing.
Ocean life also pays the price
Each year cruise ships dump about 1 billion gallons of waste into the sea. They're supposed to eject it into the deep ocean, however sometimes they dump closer to shore, presenting serious health risks.
When the Costa Concordia struck ground off of Italy's coast in January 2012, the disaster once again shed light on the ecological damage cruise ships can cause. After human-rescue efforts were exhausted, marine biologists, fearing toxins (such as petrolchemicals and human waste) would enter the water, worked quickly to move coral and sponge species to safer areas nearby. In particular, about 200 giant fan mussels were manually relocated.
The waters and fragile coral reefs around Caribbean islands can be particularly affected by big cruise ships. Coral reefs are a crucial tourism attraction, and an essential part of their marine ecosystem, but two-thirds of the region's coral is threatened by human activity.
In one incident last December, the Zenith, a 12-deck vessel carrying more than 1,800 passengers dropped anchor near the Grand Cayman's coral reef and destroyed large chunks of it as the anchor and its chain dragged across the ocean floor. While there are regulations against damaging the Cayman's coral reef, the ship was inside the anchorage area. Thus, there remains no compensation for the damage, just a public statement of grievance about the incident.