The climate crisis is not simply a scientific issue. The effects are rippling thru all of our lives. These books will broaden your perspective as to what's in our future and what probably can no longer be avoided.
https://www.shondaland.com/inspire/books/a33501482/11-new-books-that-will-change-how-you-think-about-the-climate-crisis/
11 New Books That Will Change How You Think About the Climate Crisis
From fiction thrillers to anthropological deep dives, these books offer insight and instruction on our fraught relationship with the natural world.
By Sarah Neilson Aug 7, 2020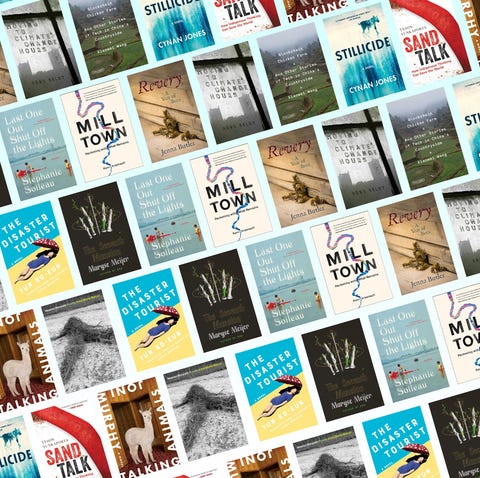 Amber Hawkins
Climate change has been accelerating for decades now, and as each year ticks by without any major action to curb it, its effects continue to make themselves ever clearer. One of the ways in which society reckons with hard realities is through art, and the appearance of climate in narrative fiction and nonfiction seems to be steadily increasing.
Extreme weather and climate change-related grief – which now has a name, "solastalgia" – is coming through in literature both subtly and overtly. Here are 11 new and forthcoming books that deal on some level with the existential trouble of climate change and/or fraught human relationships with the natural world.
Sand Talk: How Indigenous Thinking Can Change the World by Tyson Yunkaporta (nonfiction)
HarperOne Sand Talk: How Indigenous Thinking Can Save the World $27.99 SHOP NOW
Yunkaporta, who is from the Apalech Clan in northern Queensland, Australia, offers an Indigenous framework as a way of reshaping the dominant colonial worldview that has contributed so much to the environmental (and social) harm that underlies the challenge of climate change. Yunkaporta is an artist, philosopher, and researcher who brings his combined Indigenous knowledge and more western academic language to a unique and important book that is an excellent starting point for the necessary shifts in thinking that are required for reshaping how we as people exist on earth. Advertisement – Continue Reading Below
Last One Out Shut Off the Lights by Stephanie Soileau (fiction)
Little, Brown and Company Last One Out Shut Off the Lights $26.00 SHOP NOW
This debut collection of interconnected short stories brings the reader into a small town in southwest Louisiana. Here, the scars of the oil industry — one of the biggest obstacles in the way of addressing climate change in any meaningful way — are themselves the unstable ground on which the town sits. With dying wetlands, threatening hurricanes, and pollution from oil development as the backdrop, the flawed and totally compelling characters in these stories make decisions with a range of consequences large and small. This is a complex and engrossing portrait of humanity as it exists in a place that is deeply affected by the exploitation of resources and people.
The Disaster Tourist by Yun Ko-Eun, translated by Lizzie Buehler (8/4, fiction)
Counterpoint Press The Disaster Tourist $16.95 SHOP NOW
This firecracker of a novel from South Korean writer Ko-Eun could not be more timely, with themes around climate tourism, activism, and the #MeToo movement. In the book, Yona works at a travel agency called Jungle, which offers vacations to places devastated by climate change. After a predatory coworker advances on her, Jungle sends her on a "paid vacation" to an island they work with. Once there, Yona is tasked with assessing if the island — Jungle's least popular destination — is still a worthy venture for the company to maintain. But when Yona learns that the island is planning to manufacture a catastrophe in order to drum up more tourism, she realizes that she and the local citizens are in danger. This is a fast-paced thriller-esque story that skillfully addresses individual complicity in harm, and the morality of a fascination with disaster.
Talking Animals by Joni Murphy (8/4, fiction)
Farrar, Straus and Giroux Talking Animals: A Novel $16.00 SHOP NOW
In this allegorical novel, Murphy uses humor and inventiveness to populate our world with animals instead of humans. Like us, the animals in this story – alpacas, llamas, birds and bears – go to coffee bars and work in City Hall. The book takes place in New York City, where bureaucrat-worker friends, Alfonzo and Mitchell, become increasingly radicalized in their fight against the corruption and climate change that is ravaging their world. The book is a funny and incredibly resonant work of art.
Moving to Climate Change Hours by Ross Belot (8/11, poetry)
Wolsak and Wynn Publishers Ltd Moving to Climate Change Hours barnesandnoble.com $16.00 SHOP NOW Advertisement – Continue Reading Below
In this incisive poetry collection, Belot pens an ode to the end of industrial oil through the eyes of a middle-aged worker. Belot's poetry is dark and strange, which is perfect for creating the kind of almost-dystopian atmosphere that goes with his imagining of how one person reckons with his complicity in an industry and a system that caused catastrophic harm. This is a great speculative and lyrical collection that asks hard questions with no easy answers.
Mill Town: Reckoning With What Remains by Kerri Arsenault (9/1, nonfiction)
St. Martin"s Publishing Group Mill Town: Reckoning with What Remains $27.99 SHOP NOW Another book that portrays the consequences of industrialization on small-town America, this nonfiction debut focuses on Arsenault's hometown of Mexico, Maine. Mexico was a paper mill town for over 100 years, and employed three generations of Arsenault's family. But the mill, which eventually closed, also caused the area to become known as Cancer Valley due to the massive environmental damage it caused, which in turn harmed the bodies of the people who lived and worked there. Through a mix of personal narrative and reporting, Arsenault has written a riveting story of the interconnected human and environmental toll of industrialization, and the injustice of the scaffolding of class and disposability that uphold it.
The Seventh Mansion by Maryse Meijer (9/8, fiction)
Farrar, Straus and Giroux The Seventh Mansion: A Novel $16.00 SHOP NOW This twisty and complicated debut novel from short story writer Meijer is the perfect climate-related fall fiction read. Following Xie, a teenager who moves from California to the rural South to live with his father, the story begins as Xie befriends two animal rights and environmental activists, Jo and Leni. The three of them plot to rescue a mink from a farm, but Xie is the only one caught. He gets kicked out of school and spends all of his time attending activist meetings and strolling the birch woods, trying to protect the natural world he feels increasingly connected to. When he finds the bones of a Catholic saint and befriends them, and the woods are threatened by loggers, Xie's worldview and actions grow more extreme in his reckoning with identity and life in the face of environmental loss. This book is slim but packed with complex characters and questions, including what it means to live on a changing planet.
Blockchain Chicken Farm by Xiaowei Wang (10/13, nonfiction)
Farrar, Straus and Giroux Blockchain Chicken Farm: And Other Stories of Tech in China's Countryside $16.00 SHOP NOW
While not explicitly about climate change, Blockchain Chicken Farm is inextricably connected to the crisis as Wang brings us a series of stories about tech, food, and agriculture in China that potently illustrates the modern globalized world. Agriculture is a huge factor in climate change, and in these missives from more tech-y corners of the industry, Wang renders a story around it that is fascinating, disturbing, and oddly hopeful. Tech, agriculture, politics, capitalism, global connectivity, collaboration – all of these play a vital role in our lives and our earth, and this book opens up some critical conversations.
Revery: A Year in Bees by Jenna Butler (10/10, nonfiction)
Wolsak and Wynn Publishers Ltd Revery: A Year of Bees $16.00 SHOP NOW
In this beautiful meditation on beekeeping, Canadian poet, farmer, and naturalist Jenna Butler is at her best. Taking the reader through the seasons of her Alberta home, Butler writes about both domestic and wild bees. In addition to the deeply personal connection she shares with her work as a beekeeper and farmer, Butler spirals outward to include the bigger picture of colony collapse disorder, native and non-native plants, and the honey and canola industries in Alberta and their use of pesticides. The perfect braided narrative of small and large scales, this is a small (only 160 pages) but powerful book. Advertisement – Continue Reading Below
Heaven Beneath by Anne Marie Macari (11/10, poetry)
Persea Books Heaven Beneath: Poems $15.95 SHOP NOW
Another poetry collection for the list! This book follows parallel narratives of loss, one of a parent and the other of place. With imagery of an imagined place beneath — the heaven that isn't abstract, but under our feet and in the dirt — Macari renders love and grief in gorgeous lines that will be sure to enchant anyone looking for a melodic read on what it means to be human in this time of flux.
Stillicide by Cynan Jones (Paperback release 11/17, fiction)
Catapult Stillicide: A Novel $15.95 SHOP NOW
This dystopian novel from New Yorker fiction writer Jones takes place in a world engulfed in the climate crisis, where water is commodified and all of the trouble that would go along with that, does. The story begins as news of the construction of an Ice Dock reveals that many people will be displaced by it. Protests erupt, and the stories of different characters begin to intertwine. This is a great speculative thriller, fast-paced and pulse-raising, that isn't so far-fetched.
---
Sarah Neilson is a freelance writer and book critic. They can be found on Twitter at @sarahmariewrote.