The first article is from the UK, the second is from Kansas, the second is also from Kansas but from three years ago. In each,  persons in the business of fracking "shocked, I'm shocked" when told that earthquakes in the nearby area (which never had earthquakes before) are caused by their activities. The same factual connection has been shown in Oklahoma, Pennsylvania, and many other locations. C'mon guys — how in the world can you ignore the factual evidence?
https://www.theguardian.com/environment/2018/nov/11/fracking-firm-boss-says-it-didnt-expect-to-cause-such-serious-quakes-lancashire
Fracking firm boss says it didn't expect to cause such serious quakes
Drilling at Preston New Road site in Lancashire has triggered 37 minor quakes in three weeks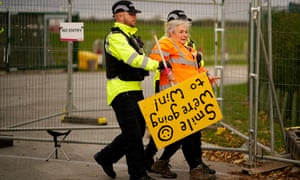 A senior executive at the fracking company Cuadrilla privately said this summer it did not expect to cause earthquakes that would be serious enough to force it to halt operations.
But despite that confidence, the company has triggered 37 minor quakessince it started fracking for gas at its Preston New Road site in Lancashire three weeks ago.
Two of those have been powerful enough to exceed a regulatory threshold that requires fracking to stop, and on a third occasion the company voluntarily ceased operations when it neared the limit.
Cuadrilla has said such tremors are to be expected from fracking, which involves pumping water, sand and chemicals 2km underground at high pressure. Under government regulations, fracking must stop if a 0.5-magnitude earthquake is registered.But during a tour of the site in June, Matthew Lambert, the government and public affairs director at Cuadrilla, said: "Because we are managing that risk I don't really accept that we are likely to cause seismicity above that level [an apparent reference to 0.5-magnitude] and we will not be causing seismicity which will damage property."He described the system of monitoring seismicity as "highly regulated" and said the company had to "manage that risk" of causing tremors, a recording of the discussions shows.The Green party said the comments, made months before earthquakes that breached the regulatory limit, showed Cuadrilla was "obviously in way over their heads".Jonathan Bartley, the co-leader of the Green party, said: "They were unaware they would cause tremors anywhere near this strong, and they evidently don't know how to stop them." He said he felt it was unambiguous that Lambert was referring to the 0.5 limit with his reference to "above that level".Francis Egan, the chief executive of Cuadrilla, last week urged the government to relax the regulatory threshold or risk stifling shale gas exploration. The energy minister, Claire Perry, rejected such calls, saying only a "very foolish politician" would do so at this point.The Green party accused Cuadrilla of trying to "strong arm" the government into changing the limit.
Bartley said any relaxation of the rules would be "unacceptable for residents who are concerned about the security of their homes".
Cuadrilla has not triggered any tremors since Sunday 4 November, when a 0.7-magnitude quake was registered. As it happened at a time when fracking was not under way, it did not register as a "red light" on the traffic light system of regulation.
That has not reassured Labour and Conservative MPs in north-west England, who wrote to the business secretary, Greg Clark, last week over their concerns about the tremors.
Lambert said: "Cuadrilla is operating within the traffic light system managed by the Oil and Gas Authority. The micro seismicity that has been detected at our exploration site in Preston New Road is way below anything that can be felt at surface and a very, very long way from anything that would cause damage or harm.
"This is what my quote refers to. In line with regulations, seismicity will continue to be closely monitored by Cuadrilla and the relevant regulators."
https://www.ecowatch.com/fracking-wastewater-kansas-earthquake-2045480679.html?fbclid=IwAR1R2KuE6bmbCoTANJAkJFfPEzgWgtNvjXaRO67xxd9CVKumpXZXVibo7KQ
https://www.kansas.com/news/state/article7540583.html
Kansas Geological Survey links earthquakes to fracking waste disposal
January 19, 2015 08:58 AM
Updated January 20, 2015 06:11 AM
The disposal of waste saltwater from hydraulic fracturing could be to blame for a sharp increase in earthquakes in south-central Kansas, according to a geophysicist with the Kansas Geological Survey.
Rick Miller's comments are the first by a state official to clearly suggest a link between hydraulic fracturing, commonly known as fracking, and the earthquakes that have rattled the area in the last two years, the Lawrence Journal-World reported.
The state recorded more than 120 earthquakes last year, up from none in 2012.
Early Monday morning four earthquakes ocurred in southern Kansas and northern Oklahoma. The strongest was a 4.1 on the Richter scale about nine miles east of Cherokee, Okla., at 4:20 a.m. That came less than a half-hour after a 3.9 tremblor struck about seven miles east-northeast of Anthony in Harper County. Three minutes earlier, another quake struck about seven miles south of Caldwell and measured 2.7 on the Richter scale.
Be the first to know.
During hydraulic fracturing, a mixture of saltwater and chemicals pumped into the ground to break up rock formations and release oil and gas. Operators then inject the waste water deep into disposal wells.
"We can say there is a strong correlation between the disposal of saltwater and the earthquakes," Miller said.
Rex Buchanan, director of the Kansas Geological Survey, stressed that it is likely disposal of the waste water, not the fracking itself, which causes seismic movement.
"If someone were to say these earthquakes were caused by fracking, there might be one or two, but there is no evidence for it," Buchanan said. "The issue of saltwater disposal is completely different."
A task force appointed a year ago by Gov. Sam Brownback to study the problem said in a report released in September that not enough evidence existed to link the two.
A leader of the Sierra Club Kansas criticized Buchanan and other state officials for their response.
"It is so ridiculous, this issue of semantics," said Joe Spease, chairman of the Kansas Sierra Club's fracking committee and owner of a renewable energy company in Overland Park. "There are millions of dollars in property damages happening, and we have our scientists playing word games."
The Kansas Sierra Club supports imposing a moratorium on fracking until the oil and gas industry develops a plan to deal with saltwater disposal, Spease said.
"If the government and the Kansas Corporation Commission care about the people of Kansas and the damages, they will order a moratorium," Spease said. "If they only care about the profits of the oil and gas (industry), it will be business as usual. I hope that is not the case."
State Rep. Tom Sloan, a Lawrence Republican who has served on several Federal Energy Regulatory Commission committees and task forces, said a moratorium would hurt the economy.
"How do you draw the line?" he asked.